All aboard for a new travel experience
Comparisons and contrasts between Mombasa-Nairobi line and China's rail system can be enlightening
The excitement of having access to a modern railway is still palpable in Kenya following the official launch of Madaraka Express - the country's standard gauge line - on May 31 by President Uhuru Kenyatta.
Social media platforms are awash with criticism and praise, but the overall consensus is that the 472-kilometer Mombasa-Nairobi railway is a big improvement on the century-old meter-gauge.
Railways in China, however, offer a glimpse of what the future holds for Africa's infrastructure network after it overcomes the initial teething problems. Here are some contrasts and comparisons.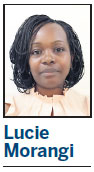 Trains on the newly built line in East Africa will run at speeds of 120 km/h for passenger service and 80 km/h for freight, halving the time taken on the roads and significantly cutting journey times on the existing meter-gauge train, running at 30 km/h.
The new line passes through 23 crossing stations, seven intermediary stations and two major stations.
In China, high-speed trains boast speeds of more than 300km/h. A train from Ningbo train station, an economic center at Zhejiang province and a major port in East China, to Beijing covers a distance of about 1,391 km. It takes approximately seven hours and stops at 13 major stations.
The station at Ningbo runs like a well-oiled machine. Electric notice boards keep passengers informed of their schedules. This is complemented by frequent announcements.
As the time draws near, passengers line up in an organized manner and tickets are scanned digitally before they step onto the platform. Priority is given to families with young children and the elderly. Cars are well marked and seats well labeled. Announcements are made in Mandarin and English, clearly mindful of foreigners on board. The train departs on time.
The seats are similar to those found in airline economy class; they recline and are comfortable. Trays fold at the back, making it convenient for passengers who come laden with food and drink for the journey.
Frequent announcements over the speakers alert passengers of the proximity to the next station and instruct them to use the minimum time possible to disembark. There is usually a seamless transition.
The train arrives at each stop on time.
In Kenya, finishing touches are still ongoing. China Road and Bridge Corp says it plans to integrate mobile payment systems to make it more convenient to buy-tickets.
The cars are well labeled from outside and the train crew are onhand assist travelers who may be confused during this first-time experience. The Madaraka Express seats are a little too firm in economy class, where large numbers of travelers are expected. This will definitely be a little uncomfortable when the train starts traveling longer distances.
Passengers sit facing each other and a table is fitted in between. Although there is plenty of legroom, it is rather uncomfortable, especially if passengers do not know each other. It also means that families will have to take turns using the tables for meals, as the surface area is limited.
According to the Kenyan government, one train will run on the route daily. An additional one will be introduced at the end of the year. It is expected that the express train will take less than five hours. The second one will take much longer, routinely stopping at designated stations.
In spite of the differences between railways in the two countries, they have some similarities. First, the routes pass through scenic countryside. Kenya, however, has an advantage here, as passengers will be treated to free, firsthand views of its wild animals.
"The views are the best ever experienced in Kenya. The elephants in Tsavo National Park are right at arm's length. The flora and fauna of this country is unmatched," says Rhoda Tsuma Mwebesa on social media.
Additionally, passengers can carry their favorite snacks onto the train, unlike planes. Although a dining car is operational and the train crew often push a trolley laden with food between cars, passengers are allowed to personally enhance their experience. Littering is, however, forbidden.
The author is a reporter for China Daily. Contract the writer at lucymorangi@chinadaily.com.cn.