One painting tells two stories
The painting Two Interesting Stories by American artist Clint Hansen has brought unexpected delight to many Chinese visitors to the World Food Prize Foundation in Des Moines, Iowa.
The revisit to Iowa in 2012 by Xi Jinping, then vice-president of China, and this year's appointment of former Iowa governor Terry Brandstad as US ambassador to China are the major contributing factors to more Chinese people seeking investment in this Midwestern state.
Zhao Li, president of Iowa China Group, which helps US companies looking to enter the Chinese market and Chinese companies seeking investment opportunities, said she's been welcoming more Chinese investors this year, sometimes several groups a week.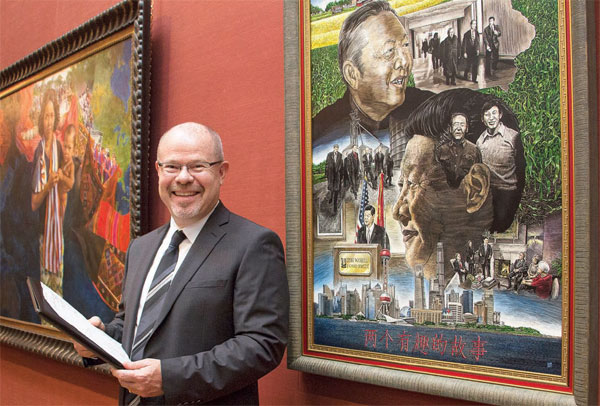 Two Interesting Stories created by American artist Clint Hansen is on permanent display at the museum of The World Food Prize Foundation in Des Moines, Iowa. May Zhou / China Daily
She often takes them to the World Food Prize Foundation, which is housed in the century-old former Des Moines Public Library building, now called the Hall of Laureates.
President Xi gave a speech there during his last visit, and billions of dollars worth of soybean agreements between Iowa and China have been inked there since then.
On the second floor of the museum, Chinese visitors find two familiar faces in the painting Two Interesting Stories: President Xi Jinping and his father Xi Zhongxun, along with scenes from their visits to Iowa.
Chinese visitors often take a photo in front of it as a keepsake, said Zhao.
"Most of them were surprised to learn from the painting that Xi's father Xi Zhongxun had also visited Iowa," Zhao said. "They are usually touched by the continuity of the story of the two generations of Xis."
Kenneth Quinn, president of The World Food Prize Foundation and former US ambassador to Cambodia, came up with the idea of using art to portray the development of the relationship between the two Xis and Iowa, which has had a significant impact on Iowa's relationship with China.
"Ambassador Quinn has told the story on many occasions," Zhao said. "When he met with President Xi in 2012, he mentioned that he might be one of the very few in Iowa who had shaken hands with both President Xi and his father. Xi then said to Quinn: you have two interesting stories."
Quinn, who was on then Iowa Governor Robert Ray's staff at the time of the senior Xi's two-day visit in 1980, showed the group the essential elements of Iowa's agricultural infrastructure, including the Amana Colonies.
The Amana Colonies began as an experiment in joint-ownership "communist" farming. Ownership was later divided up and the farm went private. Quinn recalled that the senior Xi was very interested in this history and took the time to learn all the details.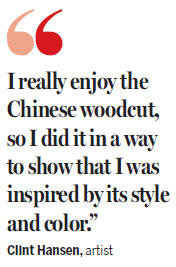 Quinn believes that what the senior Xi learned at the Amana Colonies prompted him to help craft China's agricultural reform. In January of this year, he wrote in The Des Moines Register:
" sweeping agricultural reform, which, just like Amana, now allowed individual Chinese farmers to control their own plots of land and production The results of this agricultural reformation were so immediate and dramatic that just 13 years later, the Chinese minister of agriculture traveled to Des Moines to receive the 1993 World Food Prize."
Quinn and his foundation worked with Hanse, an artist based in Des Moines, to create the painting.
After a few rounds of design, it was decided to depict three scenes: the senior Xi being welcomed at the airport by Governor Ray and Quinn in 1980; President Xi's first tour of an Iowa farm with Governor Brandstad in 1985; and his second visit to Iowa for the World Food Prize Foundation in 2012.
"I really enjoy the Chinese woodcut, so I did it in a way to show that I was inspired by its style and color," Hansen said. "It interprets the Chinese woodcut through my eyes."
Hansen was a high school student when the senior Xi first visited Iowa.
"Our teacher talked about his visit in class. It was one of the first official visits when the relations [between China and US] were getting better. They chose Iowa, which made us feel special. People still talk about it today," Hansen said.
Hansen said it is an honor to help tell the stories, to have people come to see the painting and keep the story alive.
"It helps to communicate that the world is getting smaller for us to build the relations like this. I hope the appointment of governor Branstad as the ambassador increases the relationship. It definitely benefits Iowa not only economically but also culturally. It's good all around," Hansen said.
mayzhou@chinadailyusa.com
(China Daily USA 06/23/2017 page11)