Baidu banks on strategic partnership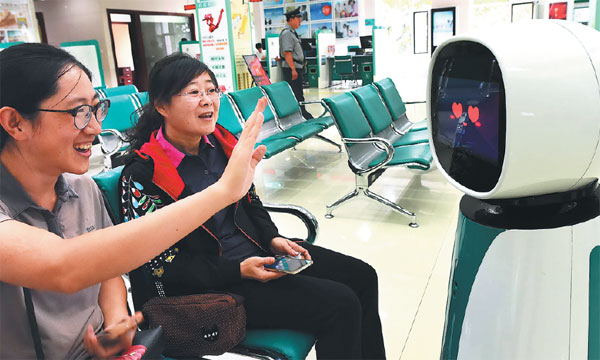 Two women interact with a robot, which helps handle business, at an outlet of Agricultural Bank of China in Qingzhou, Shandong province. Wang Jilin / For China Daily
China's major internet search engine Baidu Inc announced a strategic partnership with Agricultural Bank of China Ltd on Tuesday, to build intelligent bank that uses big data, artificial intelligence and cloud computing.
The partners said the two sides would cooperate on financial products, build a fintech laboratory, and conduct in-depth research into the intelligent financial sector.
They added they would work together in the fields of financial technology, customer profiling, evaluation of customer credit, risk monitoring, and intelligent equity financing and investment services.
Baidu founder and CEO Robin Li said: "Agricultural Bank of China is one of the largest financial companies in China, while Baidu has strengths in advanced artificial intelligence technologies."
Li said finance was one of the most important fields in the application of AI technology, and the two sides would together enter the rapidly evolving area of intelligent finance.
"The rapid development of financial technology has made great changes to the traditional financial industry," said ABC President Zhou Mubing.
"The two sides will complement each other's strengths to launch innovative products and services, as well as boost the in-depth digital transformation of Agricultural Bank of China."
Zhu Guang, vice-president of Baidu, said his company would establish a financial services platform and export financial technology, adding that AI technology has driven fintech to new levels.
Li Chao, a senior analyst with local consultancy iResearch, said: "It is inevitable that Baidu joins hands with ABC." Li said Baidu had an upper hand in internet finance, big data and AI technologies, while ABC needed to work with the tech giant to promote the innovation of the financial industry.
It is not the first time that Baidu has tapped into the traditional financial industry. In January, the internet search provider and China CITIC Bank announced they had received approval from the China Banking Regulatory Commission to establish Baixin Bank, an online direct bank.
With fintech companies eating into their business, traditional banks are now seeking partnerships with technology companies. In March, China Construction Bank, the country's second-largest lender by assets, formed a strategic partnership with Ant Financial, the financial arm of the e-commerce giant Alibaba Group.
Last week, JD Finance, the finance arm of e-commerce giant JD.com Inc, forged a strategic agreement with Industrial and Commercial Bank of China, to cooperate in the fields of fintech, consumer finance, asset management and retail banking.
fanfeifei@chinadaily.com.cn