China, promised land of education tech
Nation rapidly emerging as a global leader as parents strive to help children obtain the best qualifications
It is perhaps not surprising that China is emerging as a leader in the field of education technology. Vast geographical distances, massive government stimulus behind education technology development and competition among parents restricted to just two children is a potent cocktail for a digital industry that has the potential to be bigger and more influential globally than financial technology.
Our most recent report on key global ed tech trends predicts that spending in the sector will grow by 17 percent a year, reaching $252 billion (225 billion euros; £198 billion) by 2020.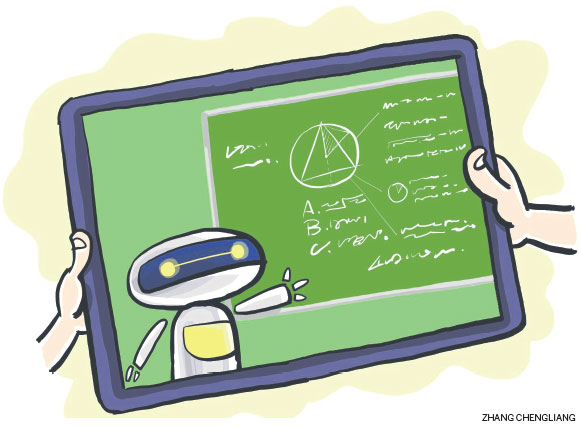 Growth in Asia, including China, easily out paces that. Indeed, spending on ed tech in China alone is growing at 50 percent a year and, in fact, China represented more than 30 percent of venture investments in ed tech in 2016. This rapid expansion gives China a unique and pivotal role in this rapidly changing, dynamic industry.
Elements of rapid change in the structure of China's economy have provided the backdrop to this rapidly developing market. For many decades, China's economy was one built around the use of millions of low-paid manual workers creating masses of low-cost goods.
But, given advances in the use of robotics in jobs previously done manually, China has faced the need to both retrain millions of workers and also to ensure that its education system is fit for future purpose in a global economy where, increasingly, low-skilled workers are being replaced by machines.
Form any years, one of the main characteristics of Chinese companies was the production of goods based on designs copied from abroad. This has radically changed in recently years and, indeed, the mantra for the country is very much about goods being developed from scratch in China, as government-led drives to nurture homegrown talent for the development of domestic champions for international expansion have begun to bear fruit.
In key disruptive industries-electric cars, for example-China is becoming a trend setter, managing its own tech revolution with the import of intellectual capital from countries with cutting edge companies, such as the United States, leading to the creation of Chinese behemoths. Some of the best smartphones are now designed and made entirely in China, and the factories that produce them exceed in their specifications many Western factories that were formerly leaders in their field.
In recognition of this need to modernize its workforce, the Chinese government is now investing massive amounts in education at a grassroots level and in further education. This is providing a significant stimulus for all forms of education, particularly in areas that are relevant for China's tech revolution.
The country, for example, is becoming the largest producer of science, technology, engineering and mathematics graduates in the world. The expanding ed tech boom in China has already had a significant impact on its further education system. The country now has several universities that are among the best in the world.
The explosion in ed tech companies in China means that there are now twice as many e-learning companies in China-9,500-as there are in Europe. This growth trajectory is expected to continue especially as the investment made by Chinese families into their children's education is also on the increase. By 2020, Chinese families are projected to be spending six times more on education than they do today and nearly four-fifths of Chinese parents would invest their money in educating their children, which is higher than all other Asian and Western countries. This ambition is even reflected in the parental use of after hours classes-90 percent of middle class parents in China pay for classes after work.
It isn't just the after-work classes that provide a lot of potential in the ed tech market. The early-years education market in China is huge, with 20 million newborns expected every year as a result of the end of the one child policy. That is twice the number of newborns in the US and Europe combined.
A highly developed domestic market presents huge opportunities, both in terms of the creation of ed tech companies and also for outside investors. Although the country already has 150 million e-learning users. This actually only represents 11 percent of the population-so there is plenty of room for the market to grow.
The Chinese ed tech boom represents a huge opportunity, particularly for schools that are based on the English language. International schools that use ed tech to bring in e-learning from abroad are particularly popular in China. By 2024, there will be more than 12,000 international schools teaching 6.9 million students in China, generating an annual fee income of over $62 billion.
British private schools have also been rapidly expanding eastward, setting up 44 overseas campuses and educating almost 25,000 pupils, a number that has doubled since 2012.
The impact on the ed tech sector of China's education revolution has been profound. There are already more than 15 so-called Chinese unicorns-that is ed tech companies that have raised more than £200 million.
One such company is iTutorGroup, valued at more than $1 billion, which is a global leader in online education providing individualized, personalized learning experiences to hundreds of thousands of students and business professionals. Other success stories include New Oriental, the largest Chinese education company, which has just passed a market capitalization of $10 billion (valued at more than 100 times its earnings while companies like Facebook or Google are valued 30 times).
China is also the country where virtual reality, a technology particularly suited to large scale upskilling and personalized training, is developed.
China's appetite for ed tech is also shown in the mergers and acquisitions tables, as Chinese companies have dominated the Asian education market over the last three years, making up 18 percent of global M&A. Ed tech investors globally-and particularly in London-are increasingly looking to China to lead the way in ed tech trends.
The British Educational Suppliers Association, which represents 325 UK-based education suppliers with combined revenues totalling £2.2 billion ($2.79 billion; 2.49 billion euros) last year went on a trade mission to China, showcasing 17 of the UK's leading ed tech companies. UK education companies are experiencing an "unprecedented" interest from Chinese investors and educators alike, something that the sector is embracing.
If today's Western education brands such as Eton X, a digital extension of Eton, are rushing to China to develop spin offs and premium digital offerings for Chinese learners, it won't be long before we see Chinese education brands going West.
To change from a country that has the largest number of employees engaged in low-skilled manufacturing tasks to being a global leader in the next stage of the tech revolution is no easy task and ed tech is just one tool to facilitate that long-term change. If digital education is the fuel for the knowledge economy, China is about to become its biggest engine.
The author is founder of IBIS Capital. The views do not necessarily reflect those of China Daily.