Booming big data industry needs rule of law
To protect against abuses, regulations must be spelled out for entire sector on mining and use of information
The fact that 15 big data companies, among them a newly listed one, are being investigated on the charge of selling customer data exposes the lack of rule of law in the booming industry.
Big data is a promising technology, which can enable people to see human activities from different perspectives. Thus, big data can be used as reliable references for decision-making.
But the ongoing investigations into the 15 companies' activities show the potential criminal risks in the big-data industry, which not only infringe upon people's privacy rights, but also aggravate social inequality.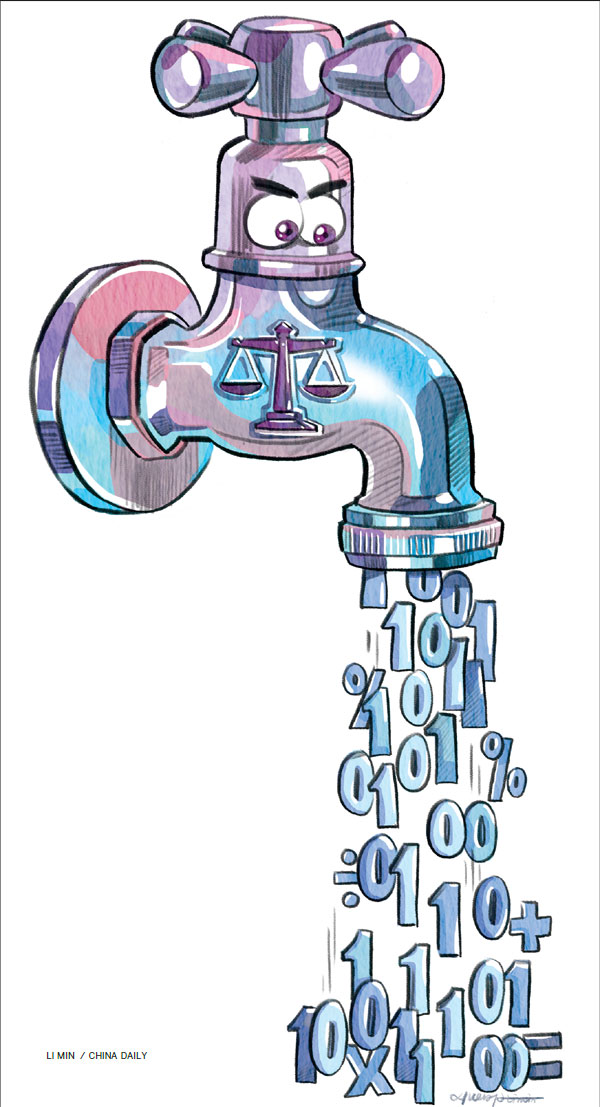 Deliberate leakage of big data is a direct violation of individuals' privacy rights. Still, some unscrupulous companies collect information on individuals' properties and consumption habits to sell it in the black market. To mine such data, these companies "invade" computer systems to obtain citizens' personal information.
The Criminal Law has clear stipulations on such activities. But it is difficult to enforce some of its clauses because big data thieves always hide behind the internet curtain and are good at using their expertise in technology to escape investigation.
Apart from deliberate leakage of personal information by immoral profit-seekers, there can also be unintended or accidental leakages of personal data. Data thieves, with the help of algorithm experts, can calculate a person's income, likes and dislikes, and even consumption habits by studying his or her online surfing record and posts on social media. They can then sell that information for profit. And the Criminal Law does not have any explicit clauses for dealing with such indirect infringement of privacy rights.
A bigger problem is that big data could aggravate social inequality leading to serious social injustice. E-commerce companies carefully explore and study big data resources to identify the most likely consumers and make their marketing and advertising campaigns more precise. This so-called precision marketing is essentially a screening process that allows companies to target only high-potential consumers, which can increase social inequality.
Headhunters, too, love big data. And since big data allow them to send information on vacancies for high-level executive posts mainly to male job seekers, they can further reduce the possibility of women becoming senior managers.
The organizers of public hearings can also use big data to identify the potential opponents to a proposal or policy, and exclude them from the entire opinion-soliciting process. In other words, big data can make it easier to manipulate the outcome of decision-making.
In addition, some commercial and social service providers can take advantage of big data to target potential clients who are most likely to bring them maximum profits, and possibly exclude those who need the service most. As such, social inequality and injustice caused by big data are less likely to be known and thus difficult to address. Which is to say big data can be used to make people's lives more convenient and comfortable, but it can also be misused to infringe upon people's privacy rights or aggravate social injustice.
To allow big data to play a positive role, it is necessary to implement a law that spells out the rules for the entire industry, from mining of data to its use and transmission.
The author is a columnist for Beijing News. The article was first published in Beijing News on May 31. The views do not necessarily reflect those of China Daily.