Innovation surge marks Xiaomi chip evolution
In 2014, Xiaomi Corp founder Lei Jun called the chip segment the "crown of the smartphone sector". Three years on, he has his own jewel in that crown-the Surge 1, Xiaomi's first in-house chip.
The technology tycoon has fond and vivid memories of a momentous instant that signifies Xiaomi's evolution from a smartphone major into a tech giant.
He recalls a night in September 2015 when, at 1:40 am, in a trial, the Surge 1 enabled the first call between a group of engineers and Lei. "My heart was surging with excitement at that moment. That's how the chipset got its name."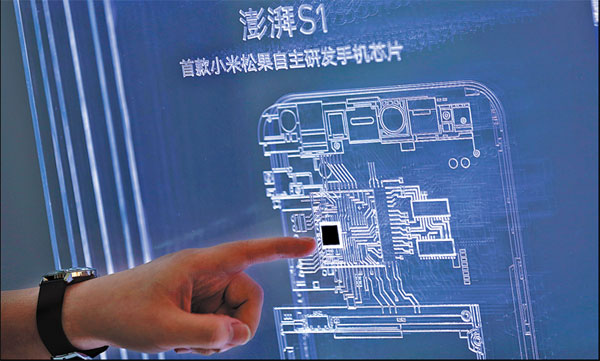 Xiaomi unveiled its first in-house chip Surge S1 in February in Beijing. Quan Yajun / Xinhua
James Yan, research director at Counterpoint Technology Market Research, says that although the Surge 1 is still at the entry level, Xiaomi's attempts to make inroads into the competitive industry highlight its determination to differentiate its products from a crowd of rivals and to seek growth via innovation.
The pursuit of innovation was what drove the Beijing-based tech major in 2014. It coasted on the success of its online-only sales model to establish a chip unit, Beijing Songguo Electronics.
It had figured out that reliable access to chips was going to be the key to success in the fiercely competitive smartphone market.
Today, Xiaomi is only the second Chinese smartphone major after Huawei Technologies Co to master chip-design technology.
While Huawei took 10 years to win market recognition for its chipset, Xiaomi took only 28 months to turn the idea of making an in-house chip into reality.
"Rapid technological advances in the past years shortened the research and development process and gave us a late-mover advantage," Lei said in a recent interview.
When Xiaomi was considering the chip unit, several experts had told Lei that it is a high-tech, cash-intensive business. R&D of chips alone would require 1 billion yuan ($147 million; 131 million euros; £116 million), and making a success of it would require at least $1 billion.
"If we want to challenge the world's top three players, we must devote long-time efforts to it," Lei said at the time.
After setting up Songguo in 2014, Xiaomi inked a technology transfer contract with Leadcore Technologies, a 100 percent subsidiary of State-owned Datang Telecom.
That partnership helped accelerate the R&D process.
"We have the smartphone shipment scale that can afford a bet on the chip business. We also have lured a number of experienced experts. That's our biggest advantage," Lei says.
Xiaomi's efforts paid off. It was able to launch its first Surge S1-powered smartphone, the Mi 5C, in March. The 1,499 yuan ($218) handset put Xiaomi among global majors such as Samsung Electronics Corp, Apple Inc and Huawei that use in-house chips in their handsets.
At the March product launch, Lei said the Xiaomi chipset's sophisticated design allows more than 1 billion transistors to amplify and switch electronic signals.
So far, the company has poured more than 1 billion yuan into its chip business, partly supported by the Beijing municipal government.
The Surge 1 started as a middle-end chip and is positioned to compete with similar products of MediaTek Inc and Spreadtrum Communications Inc, all of which seek to balance devices' power and performance.
Yan of Counterpoint says Xiaomi needs to be on its toes. "It must delicately handle the relationship with third-party chip suppliers and be wary of any problems that may arise during the mass production stage, for Huawei's 10-year experience told us that the path to self-developed chips is by no means a smooth one."
The intensified push into the chips sector also coincides with Xiaomi's broad efforts to grow its technology patents. The company says it has so far obtained more than 3,600 patents.
masi@chinadaily.com.cn