New area's optimism reflects strong infrastructure support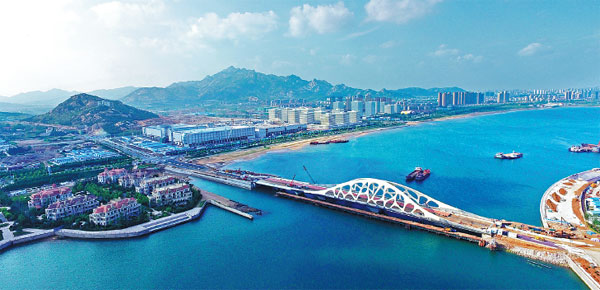 A cinema town (on the left of the bridge) is under construction in Qingdao West Coast New Area. Photos Provided To China Daily
The 3-year-old Qingdao West Coast New Area in Qingdao, East China's Shandong province, is targeting an ambitious average gross domestic product increase of 12 percent year-on-year over the next three years.
During 2017-19, it also expects its public fiscal revenue to grow by 12 percent year-on-year, the industrial value of its ocean economy to grow by 15 percent year-on-year and fixed-asset investment to increase by 12 percent year-on-year.
The area aims for its service industry to comprise 55 percent of its GDP by 2019, according to local officials with the West Coast New Area.
Qingdao West Coast New Area is located on the west coast of Jiaozhou Bay, covering Qingdao's Huangdao district. Spreading over 2,096 square kilometers of land and 5,000 sq km of sea, the area focuses on the development of the marine economy and emerging marine industries.
It aims to encourage and explore marine technology innovation and serves as a strategic base for deep-sea and offshore exploration, seeking new methods of scientific development in the country's marine economy.
Led by the local government and cooperating with the business sphere, the new area will embrace new technologies and new formats to support 100 industrial transformation and upgrade projects.
For example, the area will help to introduce high-end logistics in shipping, upgrade marine fleets with specialized boats and deep-sea equipment, and encourage the manufacture of new energy vehicles.
Innovation centers
The area spends an equivalent of more than 4 percent of GDP on supporting enterprises' research and development expenditure, in order to promote the development of a marine science and technology innovation center.
The area plans to establish 10 innovation centers such as a marine equipment center, a new energy marine center, 10 national laboratories and 50 enterprise technical centers.
It anticipates 1,000 major technological breakthroughs will emerge in the process of building an industrial innovation chain, according to an official with the new area.
With the aim of attracting 600,000 talented professionals to expand the existing teams of entrepreneurs and new industrial workers based in the new area, the administration has committed to constructing 11 outposts for established universities, such as Tsinghua University, Fudan University and the University of Chinese Academy of Sciences.
According to the new area's government, enhancing Shandong's profesional education reform provides a strong guarantee for the successful development of the West Coast New Area.
In addition, the government will promote major projects such as the Wanda Oriental Cinema, the China Railway World Expo Center, Hewlett-Packard's big data center and another 24 projects, totalled 10 billion yuan ($1.5 billion).
The construction of the Qingdao-Lianyungang railway - the city's second undersea tunnel - and other major plans will be promoted. Construction and improvement works are underway on five subway lines.
Line 13 is due to be fully operational in 2018 and Line 1 in 2019, helping to improve the city's transportation network.
Industrial parks
On May 25, a total of 12 new towns signed cooperative agreements with businesses, marking the start of Qingdao West Coast New Area industrial town's construction.
The new area first planned 17 industrial towns with different focuses, which will showcase the features of the national new area as well as local advantages.
Xue Rengui, a leader of the industrial town construction team, said that the industrial towns' total area will be limited to 3 sq km.
The new area will publish construction comments on the area's environment, culture and facilities, and will support policies on land, technology and finance.
Haier Group, a world-leading brand of major household appliances, invested 20 billion yuan to build Haier West Coast Town. The Chinese giant aims to integrate its global resources and fully utilize technological innovation.
Poly Real Estate and Poly Technologies, two subsidiaries of China Poly Group, invested 40 billion yuan to build the Poly National Defense and Military Culture Town.
The companies will focus on the construction of a national defense park, a civil-military integration industrial park and an exhibition of related technologies.
Wang Jun, the vice-general manager of Poly national defense center, said Poly town will launch a defense forum and invite international military commentators to participate either every year or two years.
Vice-General Manager of Bloomage International Investment Group Luo Jing said: "We hope the town will contain all industries. It has large-scale venues that can contain 16,000 people to showcase sport events and performing activities."
A basketball park, gallery, virtual reality experience pavilion, sports training organizations and a Beer Square will be incorporated, Luo added.
President of Qingdao Jianuohua Medical Technology Gao Jiming said that the company will build a healthcare town covering diagnosis, disease prevention and recuperation.
"We are committed to building a Healthy Zone in the West Coast New Area to help people to access treatment, facilities and medicine from overseas," Gao said.
zhuanti@chinadaily.com.cn