Discovering diplomacy
Model United Nations events are growing in popularity among Chinese students and changing many participants' lives in the long term. Zhang Zefeng reports.
Influential world leaders, scientists and environmentalists assembled at the United Nations Ocean Conference in New York on Thursday, which marked World Oceans Day.
They discussed problems oceans face and how to find sustainable solutions.
On the other side of the Pacific, college and high school students hosted a mirror event at Beijing's China Foreign Affairs University on the same day.
Students clad in formal attire played the roles of diplomats to deliberate marine resources' sustainable use.
They presented new ideas, learned about others' positions and attempted to bid to host the next conference.
More than 500 participants from 113 institutions in roughly 20 countries and regions attended the four-day event.
"It's really interesting to get a glimpse into what diplomacy really is," says Jonas Schmid, a 20-year-old student from the University of Tuebingen in Germany, who represented France.
"I think every delegate here really wants to ameliorate the state of the oceans and reach a consensus."
The conference was one of many events of this year's Beijing International Model United Nations.
The Model United Nations, aka MUN, is an extracurricular activity that originated in the United States and has grown in China over the past decade. China Foreign Affairs University students participated in the country's first MUN event in 1995.
The event has been held 13 times since 2002 and changed its name to BIMUN last year.
It simulates such UN bodies as the General Assembly and the Food and Agriculture Organization. This year's events also included the Federation Internationale de Football Association.
"Soccer is a very popular sport in Chinese cities," says China Foreign Affairs University junior Jiang Shan, who served as the chairman of the simulated FIFA event.
"Implanting FIFA in the MUN is interesting and can also increase the delegates' engagement."
Broader horizons
UN Secretary-General Antonio Guterres sent a message of greetings to participants before the opening of this year's BIMUN.
"At Model UN, you broaden your horizons. By leading and networking, you can be part of the UN's efforts to establish peace, secure human rights and enable all people to live in dignity."
This vision is shared by German student Lukas Eggert, who participated for the first time in the Asian International Model United Nations earlier this year.
"At first, I just wanted to have a glance into the minds of other people," says the 20-year-old Chinese studies major at Peking University in Beijing. "Our major is not just about the language but also about understanding the cultural history and the future of China."
Eggert enjoyed the dialogue and presenting ideas.
He says participating changed his views on such issues as the Belt and Road Initiative.
His experience at this year's MUN made him realize that the German media, for example, rarely discuss the initiative from the perspectives of such countries as China.
"Talking about those points and actually looking into the Chinese media ... helps you understand it's just a peaceful way of developing the world and developing it together," he says.
"Dialogue is the most important thing. No matter how far the positions are apart from each other, you can always find a consensus."
Developing interests
Fang Jun, deputy director of the department of international cooperation and exchange at the Ministry of Education, says the MUN enhances students' abilities, including writing, independent thinking and cross-cultural communication.
Qin Qian says participating in the MUN as a high schooler in 2011 changed his future.
"I'd planned to study at the Communication University of China," the 21-year-old says.
He instead enrolled in China Foreign Affairs University, majoring in Japanese and diplomacy.
Qin has attended various MUN events, including the London International Model United Nations, one of Europe's largest.
He recently handled discussions around vector-borne diseases at a MUN in Tokyo as an exchange student of Japan's Waseda University.
"The topic is beyond my understanding since it's related to medicine," Qin says. "But new experiences are what make the MUN fun."
He points out the MUN's primary function was initially to train top diplomats.
"Today, it offers students opportunities to learn different things that can help them discover their true interests."
Career goals
Most MUN events offer the opportunity to participants to role-play as UN diplomats in a simulated environment.
Ye Shuang recalls he was assigned to the "UN Security Council representing Russia" to deliberate on Syrian issues when he was a freshman.
"I was very nervous, and I also saw the huge gap in terms of language proficiency and background knowledge," the 22-year-old diplomacy major recalls.
"But that experience inspired me to improve my understanding of world affairs."
Ye later won the best delegate award at the BIMUN and joined the school's MUN Club.
This year, he worked as the event's secretary-general.
"I fell in love with my major because of that MUN," he says.
The experiences prompted him to set diplomacy as his career goal.
He passed the Ministry of Foreign Affairs entrance exam in his junior year.
Talking with Foreign Ministry spokesman Lu Kang made him think: "How cool it would be if I can transform from a simulated diplomat to a real one."
Shortcomings
Despite its value, some concerns surround the MUN. These include occupying much of students' time and dilution of standards as MUN groups proliferate.
China hosts about 500 MUN events annually, says Tang Jie, chairman of the Ocean Conference at the BIMUN.
The increase of MUN bodies mean few conferences meet the high standards of academic writing, he says. And many documents, including backgrounders, lack originality. "And some delegates regard it as a dress party to socialize," he says.
Tang advises participants to sustain their enthusiasm about global citizenship, learn new things and work to make their voices heard.
A typical MUN event lasts only a few days, but its value can last over the long term.
Fang encourages participants to forge friendships and passion for international affairs that last beyond the events.
"I hope more students will consider diplomacy as a career option," he says.
Contact the writer at zhangzefeng@chinadaily.com.cn
Su Yingle contributed to the story.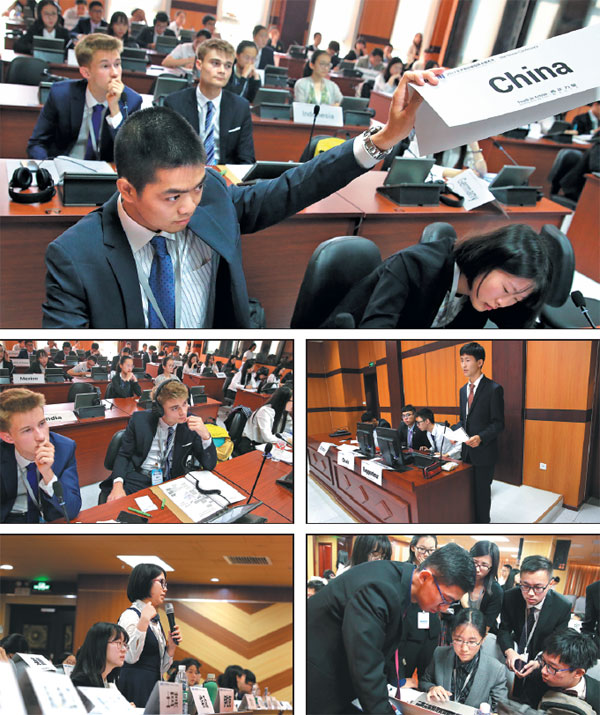 More than 500 young participants from 113 institutions in roughly 20 countries and regions attend the Beijing International Model United Nations over June 8-11 at China Foreign Affairs University to learn how to manage the world as adult leaders. Photos By Jiang Dong / China Daily