Local group takes on South Korean monopoly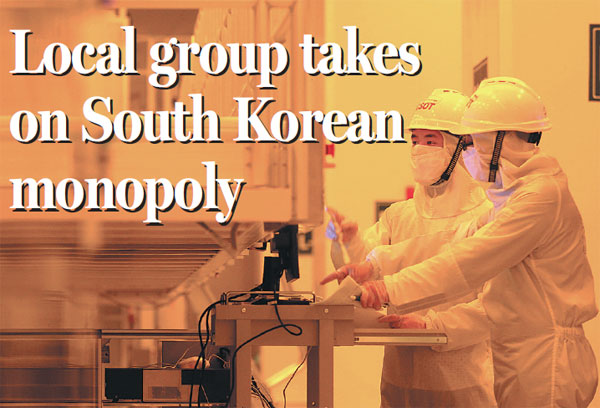 Workers check equipment in a plant of Shenzhen China Star Optoelectronics Technology Co Ltd in Wuhan, capital of Hubei province. Zhou Chao / For China Daily
Firm starts to build facility for new flexible display panels in Wuhan
Shenzhen China Star Optoelectronics Technology Co Ltd, a major Chinese display panel manufacturer, formally started construction of a sixth-generation LTPS-AMOLED display panel production line on Tuesday in Wuhan, Hubei province.
The move aims to break the monopoly of South Korean companies in the area of flexible display panels for smartphones.
With a total investment of 35 billion yuan ($5.1 billion), the project is expected to begin production in the second quarter of 2019 and achieve mass production in the first quarter of 2020, with 45,000 modules set to be manufactured each month.
Located in Wuhan's Optical Valley, the project will produce small and medium-sized display panels with high-resolution, flexible and foldable functions for high-end smartphones.
As a subsidiary of TV marker TCL Corp, Shenzhen-based CSOT said nearly 1.16 million square meters of AMOLED smartphone panels will be produced annually after the project goes into full production, which will satisfy about 5 percent of the total global demand of the AMOLED smartphone panel industry.
South Korea tech giant Samsung Electronics Co Ltd currently holds a dominant position in the AMOLED technology and products, accounting for a market share of around 90 percent.
The Wuhan production line will create more than 5,000 jobs, give impetus to the upgrading of the panel industry and enhance the competitiveness of Chinese flexible display panel manufacturers in the global market, according to the company.
"There might be a huge potential for growth in the flexible and foldable display field, but the supply will be inadequate in the next few years... Chinese enterprises should make efforts to increase investment in this sector to break the monopoly of their South Korean counterparts," said Li Dongsheng, chairman and CEO of TCL.
CSOT has also established a 4.5-generation flexible OLED R&D line, focusing on developing flexible and foldable manufacturing technologies.
Furthermore, the company has gradually had a layout in the upstream industry chain of semiconductor display, including raw materials and equipment, and along with the construction of the project, more than 1,000 industry experts will be attracted to Wuhan, Li added.
Statistics from industry consultancy CINNO Research showed the shipment of flexible AMOLED smartphone panels came up to 55 million pieces in 2016, and it is expected that this number will rise to 160 million pieces in 2017, with an annual compound growth of 88.2 percent by 2020.
According to data consultancy Digitimes Research, Chinese AMOLED panel manufacturers will begin to challenge the leading position of Samsung in 2019 as they continuously increased inputs in the field.
"The demand for AMOLED panels will witness a rapid growth. Domestic smartphone makers, such as Huawei Technologies Co Ltd and Xiaomi Corp have applied AMOLED panels into their flagship high-end products," said Li Yaqin, vice-president of Sigmaintell Consulting Co Ltd, a panel industry consultancy.
Li added that apart from smartphones and tablets, AMOLED also have a broad application in wearables, virtual reality or augmented reality devices, and other emerging display areas.
AMOLED technology is physically flexible with a fast response, high contrast and wide visual angles, compared with traditional liquid crystal display panels.
In May, BOE Technology Group Co Ltd, another leading Chinese supplier of semiconductor display products, said its first 6th-generation flexible AMOLED display screen production line had become operational in Chengdu.
fanfeifei@chinadaily.com.cn