Wimbledon-bound players undaunted by terror attacks
PARIS - Novak Djokovic and other players at the French Open say they are not worried about competing at Wimbledon next month, despite the recent terror attacks in Britain.
Djokovic, a three-time champion at Wimbledon, said on Sunday that he still plans on going to the tournament in London.
"I didn't get to that thought of: 'Oh, should I go? Should I not go to London with myself, my family?' Because it can happen anywhere. I mean, if it happens in London, happens in Paris, Nice, it can really happen anywhere," the Serb said after winning his match at Roland Garros.
"If we live in fear, you know, that's not life. If it's your destiny to be some place at a wrong time, I mean, it can happen to all of us, God forbid."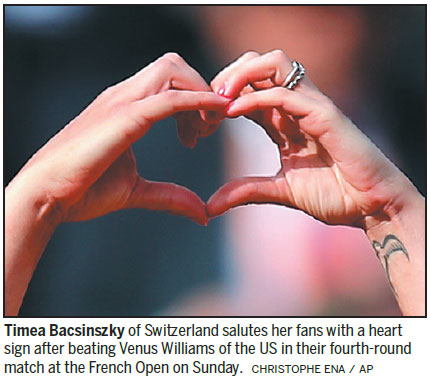 Britain suffered its third major attack in three months when men using a van and knives killed seven people in a busy area of London on Saturday night.
"When I heard about it today, obviously I was (as) upset as everyone.
"It's very disturbing that one of the biggest cities in the world, most important cities in the world, some of the most popular locations in the town, suffering these terrorist attacks," the second-ranked Djokovic said.
A van veered off the road and barreled into pedestrians on London Bridge. Three men then got out of the vehicle with large knives and attacked people at bars and restaurants in nearby Borough Market until they were fatally shot by police.
A similar vehicle-and-knife attack in March on Westminster Bridge in the capital left five people dead.
And on May 22, a suicide bomber killed 22 people and injured dozens at an Ariana Grande pop concert in Manchester, northwest England.
"I'm sure Wimbledon's on top of that stuff," said Britain's Jamie Murray, the brother of world No 1 Andy Murray.
"That seems to be the world that we have to live in these days, which is not much fun for anyone.
"But I guess you just have to trust in the authorities and the people that are in charge that they know what they're doing.
"It's very hard to stop someone getting in a van and driving around trying to knock people over. How do you stop that? It's very sad. It's tragic.
"It's just a shame that there's people out there that want to do that stuff to other humans."
Spain's Rafa Nadal, who has won two Wimbledon titles and is seeking a 10th at the French Open, said: "With these kind of things, you cannot feel 100 percent safe. That's very bad news for everybody.
"It's tough to accept these kind of things, but it's happening very often today and it is difficult to change that for the moment."
France is still under a state of emergency after a string of extremist attacks, including two in Paris.
The French Open continues until this weekend. Wimbledon starts on July 3 at the All England Club in southwest London.
"It's obviously very awful what's happening, or what's happened the last few weeks, and obviously what happened here in the past, as well," said Denmark's former No 1-ranked Caroline Wozniacki.
"You know, I don't know what you can do to prevent it.
"I think they are, here and in the UK, trying to do everything they can to keep the security at the highest level, and I think here they are doing a good job. I'm sure that when we go to the UK to play, they will do a great job, too."
Associated Press