Grande honors victims of terror
Manchester benefit concert raises more than $13m for families
MANCHESTER, England - US singer Ariana Grande held a concert in Manchester on Sunday, just two weeks after her show at the city's arena ended with the United Kingdom's worst terror attack.
The concert, "One Love Manchester", was organized to raise funds for the families of the 22 people killed and the 116 injured when suicide bomber Salman Abedi detonated a bomb as fans were leaving the Manchester Arena at the end of Grande's sellout gig on May 22.
It was aired across the globe and British Red Cross said it raised more than $13 million for the We Love Manchester Emergency Fund, created for those affected by the attack at Grande's May 22 show.
The lineup appearing before a crowd of 50,000 fans at the Old Trafford cricket ground in Manchester included Take That, Robbie Williams, Liam Gallagher, Niall Horan, Little Mix, Pharrell Williams, Miley Cyrus, Justin Bieber, Usher, Katy Perry, Coldplay and Black Eyed Peas.
Manchester hero Robbie Williams was tearful as he sang his classic hit Angels, with many fans holding up posters saying "For Our Heroes" in a message dedicated to victims.
"Manchester we're strong. ... We're still singing our song," he said.
Those who were at the arena concert were given free tickets for the show. One young fan was allowed to leave her bed at the Royal Manchester Children's Hospital to watch her idol.
The girl had been allocated a space in a special area because of her injuries, but she insisted on being with her friends in the crowd.
"Manchester, I love you with all of my heart," Grande said before the performance.
Her manager Scooter Braun referred to the Saturday's terror attack in London and said to the crowd in Manchester: "Last night this nation was challenged and you had a decision about whether or not to come out tonight. You looked that fear right in the face and said No. We are Manchester and all of the world is watching. Manchester - your bravery is our hope."
Looking emotional, Grande spoke about meeting the victims and their families during a visit to hospitals in the city.
One of the most powerful moments was when the Parrs Wood High School Choir performed Grande's My Everything with the singer. The 23-year-old pop star held the young lead performer's hand, both with tears in their eyes, as the rest of the singers joined in.
As a finale, all of the performers joined Grande on the stage to sing One Last Time. Then for the final song, she stayed alone on the stage, singing the classic song Somewhere Over the Rainbow with tears in her eyes.
The song was originally written for the 1939 movie The Wizard of Oz.
Xinhua - AP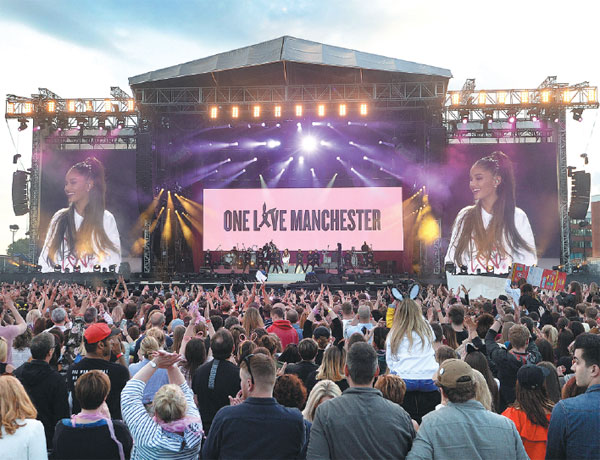 Ariana Grande performs at the One Love Manchester benefit concert for the victims of the May 22 terror attack at Emirates Old Trafford, Manchester, on Sunday. Dave Hogan Via Reuters