Tomb's story of love, exile, life and death
Remains testify to battle for power lasting nearly 30 years
Asked to name one particular funerary object he remembers most clearly, Sun Xianbao, who took part in excavating the Dingling Mausoleum in Beijing 60 years ago, cites a pair of jade rabbit earrings.
The rabbits, set in gold and with ruby stones as their eyes, once dangled from the ears of Empress Xiaojing - when she was buried in 1603. Married to Emperor Wanli, she had the good fortune to give birth to a son who ultimately succeeded his father, but also the misfortune of falling out of the emperor's favor after their fleeting relationship.
The Dingling Mausoleum in northwestern Beijing is the burial ground that Wanli built for himself and shared with his two empresses, including Xiaojing.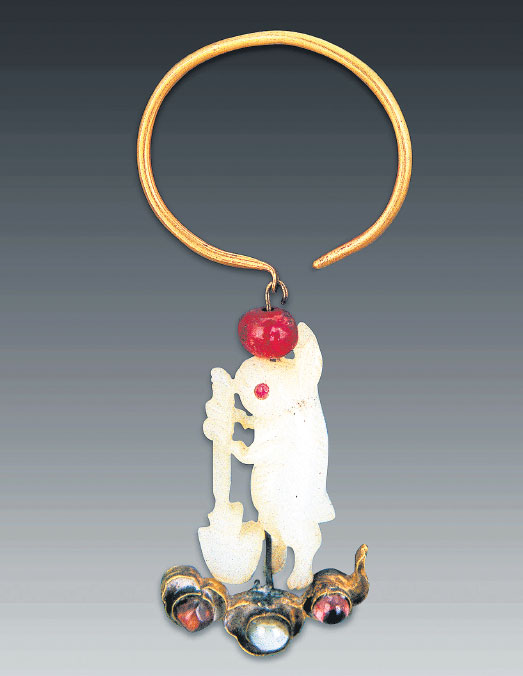 Rabbit earring worn by Empress Xiaojing upon the opening of the coffin. Photos Provided to China Daily
Despite being banished to a corner of the Forbidden City out of her husband's sight, Empress Xiaojing - Xiaojing being the funerary title of the empress, whose surname was Wang, but whose full name remains a mystery - by virtue of being the mother of Wanli's eldest son, for much of her life remained at the center of a power struggle, in which there would be no winner.
Hu Hansheng, a historian who specializes in Ming imperial mausoleums, says: "When Xiaojing became pregnant in 1581, she was just 16 and a lady-in-waiting for the emperor's mother. Her pregnancy deeply embarrassed Wanli, who had no choice but to confer on her the title of consort. That was the beginning of her ordeal."
When another consort, surnamed Zheng and whom Wanli favored over Xaojing, produced another boy, in 1586, the emperor's emotional scale tipped drastically toward the younger son.
For nearly 20 years the emperor tried to make this younger son his legal successor, Hu says.
"This was despite the strong resistance from everyone - including the entire court and the emperor's own mother - who believed in the eldest son's birthright to the throne."
The emperor eventually came out on the losing side in this battle of wills, and Xiaojing's son became the crown prince in 1601, when he was 20. It would not be for another 19 years that he would ascend to the throne, where he would remain for no more than two months, seemingly having been worn down by the epic struggle to claim his right.
His mother, Empress Xiaojing, was spared this tragic end, having died in 1603, still confined to her own corner, almost blind and fearful for her son's future. (Those fears turned out to be well founded. Her son, the crown prince, confronted an intruder in his palace in 1615, and the man, waving a stick, hit a guard before being captured. Although the intruder was declared to be insane and was executed, it was widely believed by then that Consort Zheng and her cohort were behind the intrusion and thwarted attack.)
In fact, when Xiaojing died it was not as an empress. In 1620, 17 years after her death, Emperor Wanli bade his own reluctant farewell to the world, followed by Xiaojing's son, the new emperor, six weeks later. When Emperor Xizong, Xiaojing's grandson, ascended to the throne in September that year, he decided to honor his long-suffering late grandmother with another burial - this time as an empress instead of a mere consort (concubine) and together with the emperor.
Also buried was Wanli's real and only empress in life, Empress Xiaoduan, who died earlier that same year, in April 1620, at age 56. Unlike Consort Zheng, history has cast Xiaoduan as a woman with a big heart, the protector of Xiaojing's son.
"The coffin of Xiaojing was relocated to the Dingling Mausoleum, from its original burial place about 5 kilometers away," Hu said.
In 1957, when members of the excavation team entered the underground tomb, they initially saw little: the first chamber was empty, with a stone floor covered by rotted wooden boards. A deep rut in the floor suggested that the coffins had been carried inside by carriages.
Three stone thrones were laid out in a half circle in the second and the middle chamber, symbolizing the emperor and his two empresses. In front of the thrones were yellow glass vases and giant blue porcelain ones - sacrificial offerings to the deceased.
"The blue vases were filled with solid beeswax in which half-burned candlewicks were planted," Sun says. "This is what ancient Chinese called 'the eternal light'. The candlewicks may have burned for some time after the stone gate was closed in 1620, but eventually went out due to lack of oxygen."
On both sides of the middle room were ancillary chambers - largely vacant with an elevated stone deathbed in each room. There was no coffin.
"Historians believe that the 'beds' were once for the coffins of low-level concubines of a Ming emperor, who were forced to hang themselves at their master's death," Sun says.
"But that was before Emperor Yingzong, the eighth emperor of Ming, also a tragic one, officially banned human sacrifice."
Then, there was the third and the innermost chamber, where the giant red-lacquered wooden coffins of the emperor and his empresses were housed. There, the posthumously ordained Empress Xiaojing lay quietly, but unmistakably, beside her husband. (Empress Xiaoduan's coffin lay at the other side.)
Sun, who was standing right beside the three coffins when they were opened, had a close view of the corpses.
"The hairpins Xiaojing wore were mostly made of jade, and Xiaoduan's were gold. As for the emperor, he was wearing a black bamboo-woven hat with gold dragon decorations. Judging from the bones, he had a long narrow face and mustache, not tall at all - probably about 164 cm, and slightly hunchbacked."
At the time the emperor received his uninvited guests, Consort Zheng, whom many today believe was the true love of his life, lay solitarily in her own tomb, about 3 kilometers away. During her life, she was viewed as a threat not only to Xiaojing's son, but also to the entire succession of the ruling family.
And as a concubine, she had no right to be buried with the emperor.
For the last 10 years of her life, Zheng endured loneliness in a corner of the Forbidden City, in very much the same way as Empress Xiaojing, her invisible adversary, once had. Her beloved son had long been dispatched to his own fiefdom thousands of kilometers away.
Zheng died at age 65 in 1630, 14 years before the Ming Dynasty fell.
Hu says: "If the word tragedy sums up the lives of Wanli's wives - either his loved one or his unloved ones - it is the word irony that sums up him, in life and in death."