Wanda Vista gives back to society through engagement
Mingling with the people sits high on the agenda of a hotel in Shenyang, capital of Northeast China's Liaoning province.
Wanda Vista Shenyang, as the first luxury hotel founded and managed by Wanda Hotels and Resort in Northeast China, has become synonymous with active and frequent engagement in social activities.
Since its establishment in 2013, it has paid regular visits to charity institutions and is always involved in the Wanda Children Foundation, a funding program initiated by the group company.
The hotel's management said those efforts show its commitment to giving back to society, which is the philosophy of Wanda Group as a whole.
Last year, the hotel was invited to participate in a food festival organized by Liaoning University to share Chinese food and culture with its international students.
The hotel's executive Chinese food chef, Wu Guohui, and his team not only demonstrated traditional Chinese food but also organized a session for international students to try their hands at cooking Chinese food themselves.
Syntio Camilleri, the hotel's general manager, said the hotel would extend its efforts to expand its corporate social responsibility programs on campus, which would enable it to interact directly with students.
Camilleri, who was born in Australia and later moved to Malta, said his hotel would strive to offer the best service to society and join hands with local people to open up a new chapter in Shenyang's hospitality industry.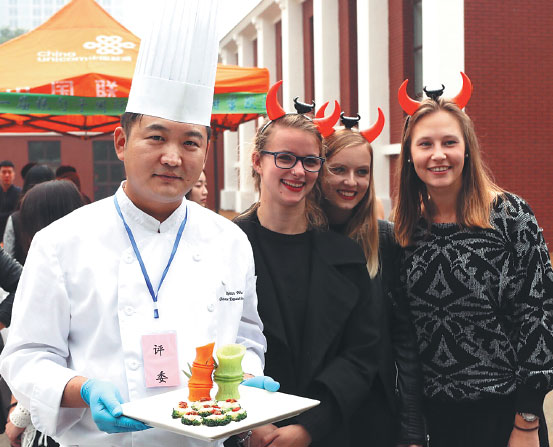 A chef at Wanda Vista Shenyang demonstrates traditional Chinese cuisine culture for more than 800 overseas teachers and students at a food festival organized by Liaoning University last year. Jiang Chengyun / For China Daily