Bringing modern living to rural villages
Retired telecommunications worker has spent nearly two decades helping poverty-stricken areas 'stand on their own two feet'
Editor's note: In the run-up to the 19th Communist Party of China National Congress, China Daily sent six reporters to villages nationwide to live for a month and take a look at how people are working under China's poverty eradication plan.
Some people see retirement as a chance to put their feet up - but not Liu Zhengrong.
Although he called it quits on a career in telecommunications 16 years ago, he has continued to help bring poor, remote villages in Hubei province into the modern age as part of a program that has run for almost two decades.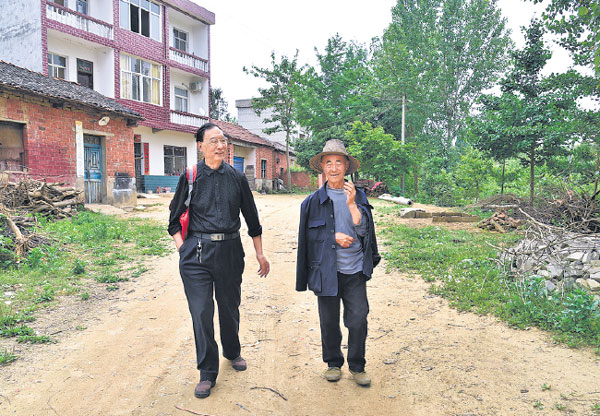 Liu Zhengrong (left) visits a villager in Hongxing in Huanggang, Hubei province. Photos by Wu Yan / China Daily
Liu, now 70, was among the first group of government and State-owned enterprise employees dispatched to the countryside by Huanggang city in 1999 to help with poverty alleviation efforts.
He has spent the past five years living and working in Yijiafan and Sikoutang, two villages which were combined in a boundary shake-up late last year to form Hongxing.
In that time, using his years of experience, he has helped improve the community's telephone system and secure 1.3 million yuan ($188,740) in investment from Hubei Telecommunication Co to install a broadband internet network.
"Every home will soon have internet access and web TV," he said, adding that 36 percent of households had a broadband connection as of March.
In addition to the telecom upgrade, he has also advised village cadres on urban planning and conducted door-to-door surveys on income, population, health, education and overall living conditions.
The area around Hongxing has seen major changes in recent years, not least because it sits along an expressway opened in 2015 that runs between Daqing in Heilongjiang province and Guangzhou in Guangdong province.
Local tourist attractions such as the Hongxing Martyrs Memorial have been integrated into the "red tourism" route around the Dabie Mountains, which was one of the old revolutionary base areas, bringing an increase in visitors.
Better transportation links have also seen families move to homes built along new roads, while those who have stayed can now travel easier on flat, concrete roads rather than the old dirt trails.
"All homes have running tap water," Liu said, adding that the final house was connected last year. "Everyone can use electricity whenever they want and they don't have to worry about when it might be cut off."
As a result, at the end of last year, Hongxing was declared free of poverty. The average per capita net income has risen to 8,180 yuan a year, according to the authorities, nearly triple the poverty line figure of 3,000 yuan.
Slow progress
About 440,000 people from Huanggang were killed in battle during the Chinese civil war, while more than 200 became marshals or generals when the People's Republic of China was founded in 1949.
Yet in the years that followed, the city was slow to develop, largely due to its mountainous location. Today, it still has more than 1 million people living in poverty.
In 1999, the city government became the first in China to send employees from government agencies, public institutes and SOEs into the countryside to guide poverty alleviation efforts.
More than 20 teams were dispatched to cover 19 villages in Tuanfeng county, with each assigned to stay for a minimum of two years.
Liu was initially dispatched along with six others to Wangjiafan village. "At the time, it had no road access, so vehicles couldn't reach it," he said. "I got off a bus in the middle of nowhere and had to walk several kilometers to get there."
His team lived in a shabby farmhouse and fetched water from a pond every day to cook and bathe, he said.
"There were no streetlights, so it was pitch black at night. And there were no recreational facilities, no TVs or smartphones," Liu said. "We had to endure hardships and form good relationships with the village cadres and residents, otherwise they would resist help.
"We stayed for 20 days each month and would rotate so that at least two of us were in the village at any time."
Three months into the program, the Hubei government called a meeting to share the experiences in Huanggang with other cities and counties, while leaders were given tours of the villages involved.
Happy to help
Each employee who is sent to the countryside is assigned at least one family. Liu is now responsible for helping Huang Ruhe, 72, and his wife in Hongxing.
The couple lost their only son after a long illness, and their daughters have married and moved far away. Although they can survive on a monthly minimum living allowance and pension, they still plant crops and keep cattle.
"It is hard for them to farm due to their age, so keeping livestock is easier," said Liu, who persuaded his former employer, Huanggang Telecommunication Co, to donate 6,000 yuan to buy the couple a cow, increasing their herd to four.
"The merit of helping families one-on-one is that it means there's always someone who cares for them and is trying their best to help them deal with the difficulties they encounter," he added. "Officials and SOE employees should put themselves in the shoes of impoverished people."
After 19 years on the front line of China's poverty alleviation efforts, during which he has lived in nine poor villages across three counties, Liu said he has learned that the real goal is to "help people stand on their own two feet".
"The priority is to ensure everyone has enough food and clothing. Impoverished people should be motivated. They shouldn't need to wait for, rely on, or ask for help," he said.
"We can help them discover more ways to make money. Seniors who lack physical strength can raise cattle, while young people can start a business or plant high-value cash crops."
Hubei aims to eradicate poverty by the end of next year, which means Liu only has two years left of his mission.
"As long as I'm healthy, I am happy to help these villagers," he said.
wuyan@chinadaily.com.cn