Kung fu group marks 30 years of spreading culture
When Shandong-based martial arts practitioner Lu Xiaohong started her training at the age of 6, she never dreamed that one day she would fly to the US to accept a trophy for her contributions to promoting and upholding the true values of kung fu as a unique and ancient component of Chinese culture.
At a gala in San Francisco on Saturday night that drew about 200 internationally known martial artists. Lu, now in her early 40s, joined her colleagues from North America, South America, Australia and China to celebrate the 30th anniversary of the organization they call home - the International Wushu Sanshou Dao Association (IWSD).
With a history of more than 4,000 years, Chinese martial arts, or kung fu, originated from ancestors mimicking movement of animals such as monkeys, tigers, cranes and snakes, in order to aid in their pursuit of longevity and inner peace.
Over time it has evolved into a series of fighting styles featuring a number of movement sets, weapons skills and fighting stunts. Chinese martial arts have been gaining popularity in the West since the early 1970s when several blockbuster movies starring late kung fu master Bruce Lee introduced the sport to the public.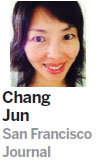 On the silver screen, martial arts masters seem unstoppable and all-powerful - they fly through the air, cross ocean waves and drop groups of thugs with a single blow from a white feather fan. The miracles never end.
The global enthusiasm for Chinese martial arts gained momentum through the 1980s, when Liang Shouyu, a multiple national gold medalist and professional kung fu coach in China, established the IWSD in 1987 after he immigrated to Canada.
"Many Westerners claimed they were big fans of Chinese kung fu, but the reality was only a few really understood it," said Liang. "In addition, connections among Chinese professional martial arts practitioners were loose. I felt we needed a league, an organization that we could all be affiliated with, a team that everyone would be encouraged to participate in and share their views."
Through the platform of martial arts, Liang has been able to facilitate cultural exchange and communication between East and West. He used to teach kung fu at the University of British Columbia, coach students at his martial arts school in Vancouver, and in 1994 led a North American martial arts exhibition team on a friendship tour to 10 major cities in China.
"My team won 42 of the 56 gold medals at the international martial arts competition in Shanghai that year, and then Canadian Prime Minister Jean Chretien wrote me a letter of encouragement," Liang recalled.
"It wouldn't be an exaggeration to say that my students have clinched most of the gold medals at all of the top-ranking international martial arts competitions," he added.
Ben Zhang, executive chairman of IWSD and president of San Francisco-based Shaolin Kung Fu International, said half of the students at his several martial arts schools are from Caucasian and East Asian families.
"I'm amazed to see how seriously they take each and every lesson, try so hard to improve their posture, their kicks and learn to exhale and inhale following martial arts doctrines," Zhang said.
Learning kung fu is rigorous and requires lot of sharpness and nerves of steel, said Lu, who also coaches martial arts students in Shandong province.
"The charm of martial arts lies in the fact that it not only enhances the practitioner's physical fitness, but strengthens their persistence and willpower, which I believe are the essence of our traditional, Eastern wisdom," she added.
Kansen Chu, a California state Assembly member, said Chinese martial artists help foster a greater understanding among Westerners of the rich culture, beautiful arts and unique heritage of China.
"I understand the importance of promoting and upholding Chinese culture," Chu said.
Contact the writer at junechang@chinadailyusa.com.