Xi backs spread of nation's tea culture
Chinese President Xi Jinping sent a congratulatory letter on Thursday to the opening ceremony of the First China International Tea Expo in Hangzhou, Zhejiang province.
Tea has been an important part of Chinese people's lives and a cherished symbol of Chinese culture, Xi said.
From the ancient Silk Road and other trade routes that saw the flow of tea on horses and ships to today's Silk Road Economic Belt and the 21st Century Maritime Silk Road, "tea has transcended time and crossed borders to win the affection of people from across the world," he added.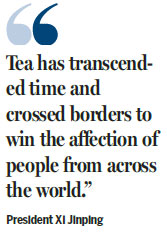 Xi said he hopes the expo will give exposure to Chinese tea culture and grow into an important platform for exchanges and cooperation between China and the rest of the world, according to the letter.
The expo runs from Thursday to Sunday. More than 800 tea makers who registered are showcasing their latest tea products. Quite a few participating enterprises have come from overseas, representing 13 countries.
"We sell 2,000 to 3,000 tons of tea to China each year, which does not satisfy us at all. We came to this expo to further promote our new products," said Le Hai Zhou, vice-general manager of Vietnam National Tea Corp.
Zhou was upbeat, saying he thinks that under the Belt and Road Initiative, more favorable trade policies will be granted. He said the company had already reached some initial agreements with China's dealers on Thursday.
China's 2016 tea exports reached 328,700 tons, up by 1.15 percent, with a value of $1.49 billion, which was up by 7.48 percent, according to annual statistics released by China's General Administration of Customs.
The State-owned high-end black tea producer Hunan Provincial Baishaxi Tea Industry Co plans to expand its sales in more Belt and Road markets this year.
"Almost 90 percent of our exports go to markets such as Japan, the Philippines and Indonesia, and our sales reached 12 million yuan ($1.74 million) last year. But the exports account for only 4.6 percent of our annual sales," said Meng Tao, assistant general manager of the company.
"With the initiative in place, we are planning more exports to Belt and Road markets, such as Kazakhstan and Russia."
Meng said his company is recruiting more foreign staff to prepare for the move.