Warriors wallop punchless Spurs
OAKLAND, California - Steve Kerr provided a strong message, just not from his usual spot on the bench: Play with urgency.
The Golden State Warriors did just that for their ailing coach watching from the locker room, and left Gregg Popovich questioning and criticizing his Spurs for a lack of belief and feeling sorry for themselves without injured superstar Kawhi Leonard.
Stephen Curry had 29 points, seven rebounds and seven assists in three quarters as the Warriors trounced the shorthanded Spurs, running away from San Antonio for a 136-100 rout on Tuesday night and 2-0 lead in the Western Conference finals.
Kevin Durant added 16 points and Draymond Green provided another impressive all-round performance with 13 points, nine rebounds, six assists, two steals and two blocks.
Rookie Patrick McCaw had 18 points and five assists off the bench shooting 6 for 8 as Golden State earned its most lopsided victory of the playoffs to go to 10-0.
Jonathon Simmons scored 17 of his 22 points in the first half as the lone bright spot for the Spurs.
"It looked pretty collective to me. I don't think it was one guy who didn't believe and he infected everybody else. As a group they just let themselves down," Popovich said.
"The truth always, quote-un-quote, sets you free. You can't sugarcoat it or say 'if we had just made a couple shots we'd have been right there.' That's pretty lame. So, call it like it is. We didn't come to play. We felt sorry for ourselves.
"We need to get slapped and come back and play Game 3 and see who we are."
Leonard reinjured his left ankle in Sunday's 113-111 Game 1 loss after coming down on Zaza Pachulia's foot. Popovich on Monday called out the Warriors' Georgian center for the "dangerous" and "unsportsmanlike" closeout.
Pachulia hit back, saying he is not a dirty player, was only playing hard, and felt bad that the All-Star was injured.
Game 3 in the best-of-seven series is on Saturday in San Antonio.
Pachulia left the game injured for a Warriors team already without key reserve forward Andre Iguodala, held out because of soreness in his left knee that limited him to 10 minutes in Game 1.
An X-ray on Pachulia's bruised right heel was negative but he was scheduled for an MRI scan on Wednesday. The big man played nearly seven minutes but sat out the entire second quarter.
Golden State quickly established its pass-happy style to take the Spurs out from the opening tip. It was a drastic difference from a game of catch-up two days earlier when the Warriors rallied from 25 down and a 20-point halftime deficit.
The bench contributed a season-best 63 points.
Associated Press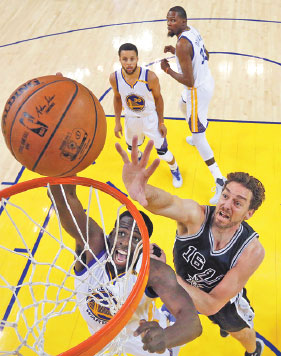 Golden State Warriors' Draymond Green challenges San Antonio Spurs' Paul Gasol for a rebound during Game 2 of the NBA's Western Conference final on Tuesday. Marcio Jose Sanchez / Ap