Financial hub will focus on wealth management
Qingdao, a coastal city in East China's Shandong province, intends to become an international wealth management hub during the 13th Five-Year Plan (2016-20) period, through the development of its wealth management pilot zone, local media reported.
The creation of the zone was approved in February 2014, establishing China's only financial comprehensive reform pilot zone focused on wealth management.
Home to 233 financial organizations, Qingdao already boasts a modern financial system with diverse financial institutes.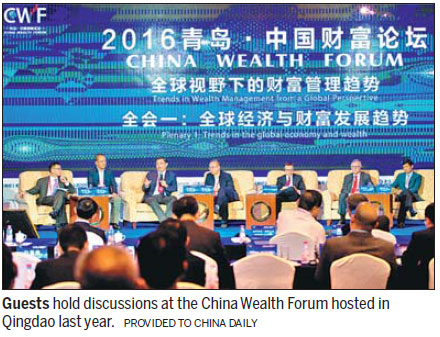 The city was listed on the Global Financial Centres Index for the first time in April 2016, with its ranking rising to No 46 in September. The index released on March 26, 2017, ranked Qingdao No 38 globally.
The financial sector contributed 10.3 percent to the city's GDP in 2016, ranking No 4 among all industries. Last year, loans and deposits in the system both grew by more than 100 billion yuan ($14.49 billion), while the city's insurance premium income surpassed 30 billion yuan.
In the first quarter of 2017, total loans in Qingdao increased by 64.72 billion yuan, a record high for Q1 growth since 2010. Insurance premium income reached 16.04 billion yuan in the first three months this year, a year-on-year rise of 34.4 percent.
Two Qingdao-based companies have listed on stock exchanges since the beginning of this year, pushing the city's total to 40.
Since 2014, the zone has established wealth management partnerships with 18 countries and regions, and has reached more than 100 preliminary cooperation agreements.
In that time, the zone has garnered 60 innovation pilot policies with input from related national departments. The policies center on key financial reform and development aspects, ranging from cross-border investment and financing, to establishing financial organizations.
Related government agencies in Qingdao have provided incentive measures for promoting the pilot zone's growth and have also helped the zone to attract financial professionals.
The city implemented regulations to promote financial development back in September 2012, becoming the third city in China to create local financial legislation. It also released a policy document in November 2015 to promote construction of the wealth management pilot zone in four ways - gathering financial resources, encouraging financial innovation, expanding the capital market and attracting financial experts.
Influential Forum
The China Wealth Forum in Qingdao has become an influential forum brand both domestically and internationally since its launch in 2015. This is an important stage in the zone becoming more internationally influential, Qingdao officials said.
This year's forum will be hosted on June 17 and 18, focusing on the new globalization era of wealth development. The event's organizers have invited former United States treasury secretary Timothy Geithner, Jin Liqun, president at the Asian Infrastructure Investment Bank, noted experts and scholars, and executives from important financial organizations to attend the forum.
songmengxing@chinadaily.com.cn