All aboard for the Silk Road sea cruise
Epic voyage will take in exotic destinations and provide a feast of Chinese culture
In 1405, when Zheng He, envoy of the Chinese emperor of the Ming Dynasty (1368-1644), started a marine expedition, he took his country's trade ambitions throughout Southeast Asia and all the way to East Africa. It was also a milestone for culture among people from different countries. Different races, creeds and cultures got involved with cultural exchanges, which made it possible for Arab traders, for example, to build mosques to practice their faith in the Chinese port city of Quanzhou, in Fujian province.
A new voyage is due to set sail on May 21 on a journey of 37 days from a port near Rome in Italy to Xiamen in East China's Fujian province, a cruise themed the Silk Road Sea Route journey, designed to "enhance cultural exchanges on a route that is echoing the ancient maritime Silk Road route," says Li Xiaolin, president of the Chinese People's Association for Friendship with Foreign Countries.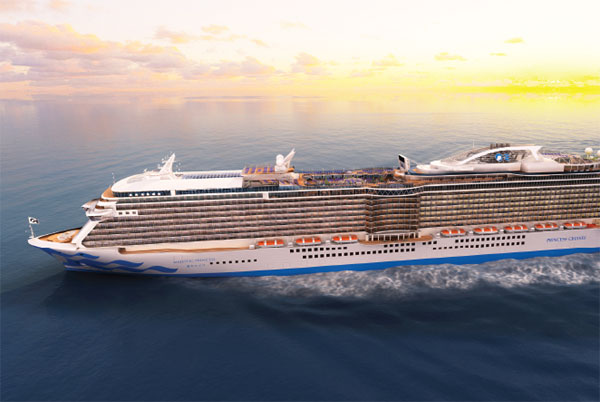 Majestic Princess will set sail on May 21 on a journey of 37 days from a port near Rome in Italy to Xiamen in East China's Fujian province. Provided to China Daily
The voyage, organized by the association in partnership with Princess Cruises, will visit ports including Naples in Italy, Colombo in Sri Lanka, Penang in Malaysia and Bangkok in Thailand.
On board the 143,000-ton Majestic Princess, Princess Cruises' latest cruise ship tailored for the Chinese market, a splendid menu of Chinese cultural heritage and traditions will be put on show and more than 6,000 guests from 40 countries will be invited to sample the feast.
This is a repositioning cruise for Majestic Princess, delivery of which was taken in March from a shipyard in Monfalcone, Italy. Her new home port will be Shanghai, where she will begin her first home season in July.
According to the CPAFFC, the May 21 voyage will start with a lively show of Shaanxi-style dances when the ship sets out from near Rome.
Children from the northwestern Chinese province will put on a show of Ansai waist drum dancing and ancient folk art featuring a mixture of dance, song, martial arts and gymnastics.
The region's culture was made famous in a scene in Chen Kaige's awarding-winning film Yellow Earth, which shows 150 people beating drums at a parade as the dust swirls around.
Chinese avant-garde artists, folk music and classical dances are also listed on the repertoire.
Two state-level performing troupes, the China National Orchestra and the China National Opera and Dance Drama Theater, will perform folk music and classical dance dramas on the journey from Naples to Piraeus in Greece between May 22 and 24, and the following section from Dubai in United Arab Emirates to Colombo in Sri Lanka between June 5 and 12.
Guests on the Penang-Bangkok leg of the journey between June 16 and 21 will also feast on authentic Sichuan dishes, such as duck blood in chilli sauce and fried chicken in red peppers, and see eye-popping displays from Sichuan province, including face-changing shows by the Sichuan Opera.
An exhibition of Shu embroidery and Qingshen bamboo weaving will also be on display.
Shu is the short term for Sichuan. Shu embroidery is typically done on the soft satin fabric produced in the province. Each piece may involve hundreds of thousands of stitches for a single figure or animal may take many days, or even weeks, to complete. One of the most popular subjects for Shu embroiderers is the giant panda.
Bamboo weaving in Qingshen dates back 2,000 years, and local craftsmen over the centuries have mastered the skills to make various products, some commonly used in everyday life and others framed as pictures.
As well as assorted performances and shows, Li says three prominent Chinese scholars will be invited on board to speak about Zheng He's trailblazing expeditions and the ancient maritime Silk Road. They will also share China's vision of rejuvenating ancient international trade routes by land and by sea, namely the Silk Road Economic Belt and the 21st Century Maritime Silk Road.
The launch of this route "will catalyze economic development of the Belt and Road Initiative and boost cultural communication between East and West", says Anthony Kaufman, executive vice-president of international operations for Princess Cruises. "The combination of exceptional experiences aboard the Majestic Princess and the exotic locations visited along the Silk Road sea route will present a luxury cruising experience with sophistication and elegance unmatched across our industry."
lijing2009@chinadaily.com.cn