Deals at Canton Fair up by 6.9% to $30 billion
China's foreign trade is expected to sustain an upward trend in the near future, as more export-oriented companies focus on developing new levels of competitiveness, according to the spokesman for the nation's biggest trade event.
"Chinese exporters are no longer manufacturers focusing on intensive production and lower pricing to compete in the global market," says Xu Bing, spokesman for the Canton Fair.
The Canton Fair - held twice a year and known as the China Import and Export Fair - concluded on May 5 in Guangdong's provincial capital of Guangzhou with reported total transactions increasing by 6.9 percent year-on-year to 206.357 billion yuan ($30 billion; 27.35 billion euros; £23.15 billion).
"Development of new competitiveness - including technology, brands, quality and services - is the reason for the increase in transactions for Chinese exporters," says Xu, also deputy director of the China Foreign Trade Center.
There were 196,490 overseas buyers from 213 countries and regions visiting the fair, a rise of 5.87 percent year-on-year.
"We can see that more companies participating in the Canton Fair displayed products with higher quality and design, which offer high added values and are more competitive in the global market," Xu adds.
Transactions at the brand exhibition areas during the fair increased by 16.9 percent year-on-year to $10.9 billion, accounting for 36.3 percent of the total.
Su Cheng, general manager of Taizhou Chenghao Machine Mould Co Ltd, says Chinese homegrown molds, which are of high quality with competitive prices, had also been sold to developed markets.
"The demand for Chinese molds has been increasing recently in developed markets, which are traditionally powerhouses for high-quality industrial molds," says Su.
According to Su, the company's molds have been sold in major markets like the United States, Japan and Russia.
"The demand from developed markets began steadily increasing from the second half of last year. We are making efforts to develop high-quality molds to satisfy the demand," says Su.
The Zhejiang-based company, which is mainly engaged in production and sale of molds for industrial air conditioners, also produces garden pots that can automatically water flowers.
qiuquanlin@chinadaily.com.cn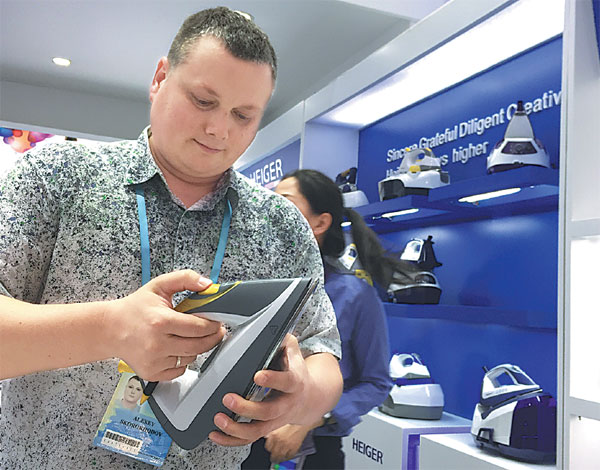 A foreign merchant inspects a steam iron at the Canton Fair in Guangzhou, Guangdong province. Qiu Quanlin / China Daily