Aircraft manufacturing to take off on C919 jet
The successful maiden flight of the C919, a single-aisle homegrown passenger jet, is expected to provide a major impetus to the domestic airplane manufacturing industry.
With more than 100,000 components for the plane, more than 240 local companies have served as suppliers and manufacturers for the C919 aircraft.
Once the C919 plane starts mass production and delivery, it is expected to drive the rapid growth of the upstream and downstream industry chains and other high-end manufacturing sectors, such as metal materials, metallurgical processing and dynamic controls.
Some cities, including Xi'an, Chengdu, Nanchang, Shenyang and Shanghai, have become involved in the production and assembly of the aircraft.
All of them have formed aviation industry clusters and they are about to achieve faster development following the mass production of the C919, according to its manufacturer - the Shanghai-based Commercial Aircraft Corp of China Ltd.
Harbin Hafei Industry Co Ltd, an aviation manufacturer in Harbin, Heilongjiang province in northeastern China, is mainly responsible for the manufacturing work of some parts that mainly use composite materials.
These parts include the hatch door for the front landing gear, the hatch door for the main landing gear and the vertical tail of the C919.
Li Wei, deputy chief engineer of the C919 project at Hafei, said: "Once the C919 aircraft starts large-scale production, it will effectively drive the output value of Hafei."
Earlier, Hafei was mainly responsible for manufacturing helicopters. Despite its rich experience in airplane production, the company still faces a lot of technical challenges for the C919 plane.
"The C919 aircraft has an advanced design concept, which makes it more difficult for manufacturing techniques. The manufacturing process for the plane has helped us significantly increase our experience and abilities in dealing with composite materials," she said.
"Enterprises will be able to take a leading position in the fierce market competition, if they can grab the opportunities in the C919 project and supporting sectors," Li said.
By 2030, the demand of single-aisle aircraft is expected to reach 14,500 worldwide and China has a demand of about 2,650, according to an industry forecast.
Boeing earlier predicted that China will need 5,110 new single-aisle airplanes through 2035.
After its maiden flight, the C919 will also launch a series of test flights, complete its technical verification tests and then enter the period of mass production and delivery in the next few years.
So far, COMAC had received 570 orders for the C919 from 23 clients, including domestic airlines such as Air China, China Southern, China Eastern, Hainan Airlines and Sichuan Airlines.
Overseas orders account for about 10 percent of the total, including airlines from Germany, Thailand and Africa.
Contact the writer through zhuwenqian@chinadaily.com.cn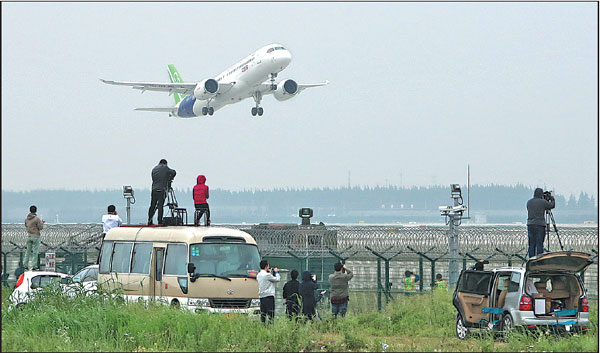 C919, China's homegrown large passenger jet, takes off on its maiden flight at Shanghai Pudong International Airport on Friday.Gao Erqiang / China Daily