China Rapid Finance shares gain on first day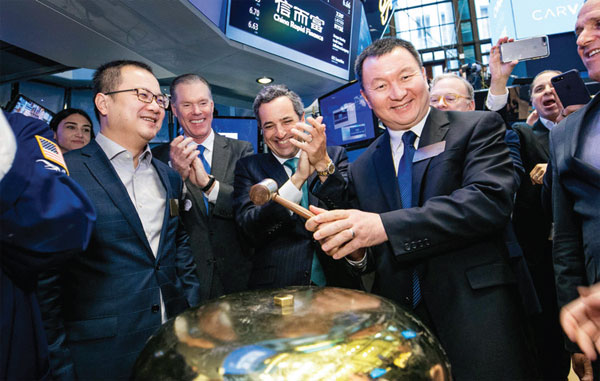 Zane Wang, founder and CEO of China Rapid Finance Ltd, rings a bell at the New York Stock Exchange on Friday. His company raised about $60 million in an initial public offering. Provided to China Daily
Shares of China Rapid Finance Ltd, which operates an online marketplace in China for small peer-to-peer loans, edged up in its first day of trading on the New York Stock Exchange.
China Rapid Finance, which trades under the symbol "XRF", sold approximately 10 million American depositary shares on Friday at $6 each, and raised about $60 million with its initial public offering (IPO).
The shares gained 42 cents, or 7 percent to close at $6.42.
Zane Wang, CEO of Shanghai-based China Rapid Finance, started the company in 2001. He said the proceeds will be used to acquire more borrowers.
"We need capital to help subsidize the cost of bringing in new borrowers," he said in an interview.
Wang said China Rapid Finance is already partnering with other companies in China like major internet platforms to recruit borrowers. "By using these channels we can acquire customers at a lower cost than other online lenders," he added.
China Rapid Finance is targeting the estimated 500 million Chinese who are well-educated, employed young mobile users living in urban areas. This demographic segment often has difficulty getting loans from banks as they lack a credit history. Banks in China also tend to cater to the well established and affluent.
"We try to offer these borrowers a more affordable rate and fees, at least in the beginning, so they can establish a credit history," Wang said. "Once they are established, then we have a customer who will likely use our services again."
Wang said China Rapid Finance does not provide the actual financing product to consumers but instead acts as a facilitator that matches borrowers and lenders. China Rapid Finance is a massive online consumer credit marketplace that makes its money from recurring transaction and service fees, according to Zacks Investment Research.
paulwelitzkin@chinadailyusa.com