China on the road to smart car domination
Government to promote innovation to give nation the lead in producing the vehicles of the future
China is set to build a globally competitive automotive industry within 10 years, with new energy vehicles and smart, internet-connected cars taking the lead worldwide, according to an industry guideline released on April 25.
Among other goals, it expects sales of electric, plug-in hybrids and fuel cell cars in the nation to reach 2 million by 2020, and such cars will account for 20 percent of all auto sales by 2025.
Half of the new cars in China will feature some driving assistance and low-level autonomous driving functions by 2020 and the number is expected to rise to 80 percent in 2025.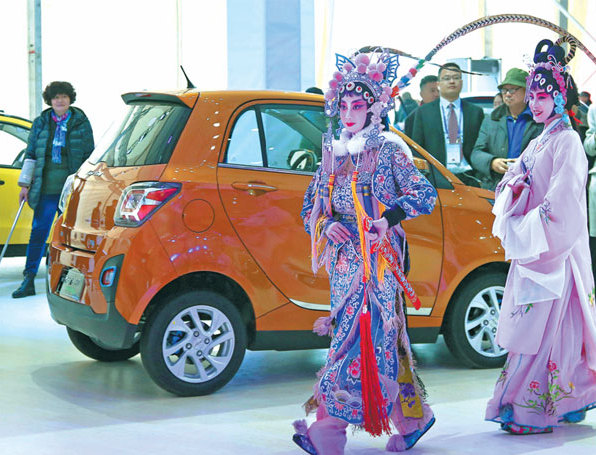 Performers in traditional local opera costumes attend a new energy vehicle show in Jinhua, Zhejiang province. Ge Yuejin / For China Daily
The guideline was issued by the Ministry of Industry and Information Technology, the National Development and Reform Commission and the Ministry of Science and Technology.
According to the guideline, China will foster innovation, step up research and development of new energy cars and smart cars and encourage automakers to join hands with internet companies.
"Innovation is the engine of our drive to build a globally competitive industry," says Miao Wei, minister of industry and information technology.
"We are lagging behind developed countries in terms of traditional cars, but we have laid a good foundation and now enjoy favorable conditions in terms of new energy vehicles," Miao says.
China has been the world's largest new energy vehicle market since 2015.More than 500,000 were sold in 2016, bringing the number on China's roads to 1 million, accounting for 50 percent of the global total.
Miao says cars are transforming worldwide from tools for transportation into large mobile smart terminals, and the emergence of Chinese internet and telecom giants, including Tencent Holdings and Huawei Technologies, can support automakers to take the lead not only in new energy vehicles but also in smart, connected cars.
"The boom in bike-sharing in China is an example we can learn from. In addition to the innovative business mode, one important factor of its success is the use of advanced positioning technologies."
BYD Co Ltd, the world's largest new energy carmaker, released its electric bus strategy in 2010.
Wang Chuanfu, chairman of BYD, says, "We believe car electrification is an inevitable trend, and private cars will be the next pillar of its development after buses."
He says BYD will promote hybrids in some 200 cities across the country in three to five years.
In terms of smart, connected cars, Wang says BYD will introduce driving assistance functions, including pedestrian detection, before 2020.
"Of course, the use of smart and connected cars in their real sense also depends on the development of infrastructure and the 5G network."
Changan Automobile Co Ltd is to invest 21 billion yuan ($3.05 billion; 2.78 billion euros; £2.37 billion) in 10 years to expand its current 600-member smart car research team to 2,000 people. It now has research and development centers in China, the United States, the United Kingdom, Italy and Japan.
"Cars will not be cars without smart functions in the future," says Zhu Huarong, the carmaker's president. He says its cars with high-level autonomous driving functions will hit the market in 2020.
lifusheng@chinadaily.com.cn