Tianzhou 1 completes historic refueling of orbiting lab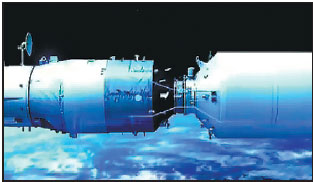 China's first cargo spacecraft Tianzhou 1 completes its first fuel resupply test with the Tiangong II space lab at 7:07 pm on Thursday in this simulated image.Screenshot From Cctv
Tianzhou 1, China's first cargo spacecraft, has completed the country's first in-orbit refueling test with the unmanned Tiangong II space laboratory, the China Manned Space Agency said on Thursday.
Zhang Youxia, commander-in-chief of China's manned space program, called the Tianzhou 1 mission a success.
The space agency said in a news release the refueling test was a major technology breakthrough and has paved the way for China to assemble and operate a space station.
The agency also said China has become the third nation to complete in-orbit refueling technology, following Russia and the United States.
As the first of the planned three in-orbit refueling tests for Tianzhou 1, it took five days and wrapped up at 7:07 pm on Thursday.
Pang Zhihao, executive editor-in-chief of Space International magazine, said the refueling demands designers to add pipelines in the spacecraft's docking adapter and create a difference in pressure in fuel tanks of both spacecraft to transfer the fuel.
"Making sure there is no leakage of fuel is crucial," he said.
The agency said that after the first test, the two spacecraft will stay connected as they orbit Earth for about two months, and the second in-orbit refueling test will be conducted in the latter part of June.
After that, the two spacecraft will undock, and the cargo vessel will make sophisticated, automated maneuvers to circle the space lab and docking with the lab at a different site.
The two spacecraft will then fly independently about three months, and near the end of that period they will dock for a third time - a fast docking maneuver that is expected to be completed in six hours, compared with at two or more days for a typical docking - and carry out the third refueling test.
Eventually, the cargo vessel will be directed by ground control to plunge back to Earth.
The Tianzhou 1, the country's largest and heaviest spacecraft, was launched at the Wenchang Space Launch Center in Hainan province on April 20.Tiangong II has been in space since mid-September and carried two Chinese astronauts from mid-October to mid-November. It is now unmanned.
China plans to start construction of a space station around 2018 and complete it by around 2022, according to the manned space agency.
xindingding@chinadaily.com.cn