Afghanistan declares day of mourning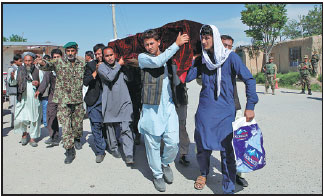 Relatives carry the coffin of one of the victims a day after an attack on the Afghan army's Corps 209 Shaheen base in northern Balkh province, on Saturday.Reuters
KABUL - The Afghan government declared a national day of mourning on Sunday to pay tribute to dozens of army personnel who were killed and injured after a massive Taliban attack at a military base.
On Friday, 10 Taliban militants disguised in army uniform sneaked into army's Corps 209 Shaheen base in northern Balkh province, firing at dozens of unarmed soldiers and officers.
"In order to pay tribute to the honorable and brave Afghan soldiers martyred in a terrorist attack during Friday prayers at Shaheen 209 Corps mosque, the president issued a decree and declared Sunday as a National Mourning Day," said a statement issued by the presidential palace.
Meanwhile, the death toll from the attack continued to rise.
Local television channel 1TV, quoting provincial officials, reported that the death toll from the attack had surpassed 150 and more than 80 others were wounded.
The death toll was likely to climb further as several injured soldiers remained in critical condition
"Special prayers will be held in the Presidential Palace mosque and at mosques across the country and the national flag will be flown at half-mast at home and Afghan diplomatic missions abroad," the statement said .
The heavily armed militants in two military Ranger jeeps made their way into the base under the pretext of carrying wounded people to its hospital.
The assailants, who entered the base with forged documents, also conducted two suicide bombings.
On Saturday, President Mohammad Ashraf Ghani inspected the site and chaired an emergency security meeting at the base, ordering an investigation into the attack before visiting the injured in the base's hospital.