Internet-connected intelligent robot vendors to smarten industry up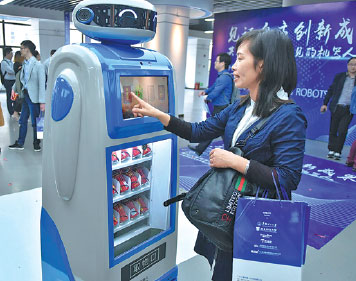 A woman interacts with a smart Magic Wand vendor in Guangzhou. Zhu Yuanbin / For China Daily
Robot hawkers and smart automated vendors, anyone?
They can approach passersby, scan them for potential buyers, and make a customized sales pitch.
Such scenes may no longer belong to the realm of fantasy but become a reality sooner than later, say experts driving innovative internet-based technologies in China.
Unlike traditional vending machines found at public areas, an intelligent vending robot can interact with consumers and understand what each of them really needs.
"The vending robot can help companies better adjust their product mix and build a more market-oriented business by mining data on consumer habits," said Dai Jiabao, founder and chief executive officer of Guangdong Magic Wand Technology Co Ltd.
Magic Wand has developed an intelligent vending machine that will be tested at major public areas in Guangzhou, capital of Guangdong province, this month, according to Dai.
"Traditional retail companies need to introduce more internet-based technologies to upgrade their businesses. As a company engaged in research and development of intelligent facilities, we are willing to use the booming internet-based technologies to help traditional manufacturers to boost their sales."
According to Dai, Magic Wand will provide customized services for retailers, aiming to expand use of smart robots at major industrial areas.
The company has already signed purchasing agreements with a number of domestic companies in the fast moving consumer goods or FMCG industry, according to Dai.
"Internet-based technologies, which are used by intelligent vending machines, will help revitalize the manufacturing and retail sectors," said Dai.
A growing number of traditional manufacturing businesses in the Pearl River Delta have already harnessed internet-based technologies to upgrade themselves, especially their sales operations.
Stephen Tai, founder and chairman of Four Seas Group, a Hong Kong-based food company, said internet-based technologies have opened up new opportunities for the traditional manufacturing sector, driving the industry from low-end processing to advanced and intelligent manufacturing.
"We opened online trading services last year, which were well combined with our traditional business," said Tai.
Four Seas has 20 production plants in Hong Kong and the Chinese mainland, which distribute over 5,000 food products sourced from over 30 countries and regions.
In Guangzhou alone, Four Seas has opened 10 food processing plants, including a subsidiary dedicated to international trade and e-commerce.
"The booming internet-based technologies have helped expand our sales and product varieties. As a traditional food company, we are bracing for new challenges and opportunities in the internet era," said Tai.
qiuquanlin@chinadaily.com.cn