Foreign VC spurs China's new economy
Despite the slip in global venture capital investment, venture capital in China has experienced a steady growth year by year.
A total of $31 billion (29.2 billion; 24.9 billion) reportedly was raised through 300 deals last year. The figure represents a 29 percent growth in capital invested, but a 42 percent drop in deals compared with the previous year.
The boom of venture capital in China is driven largely by a cluster of megadeals made during the first half of 2016.
China's innovative businesses attracted more venture capital, and among them foreign VC showed an avid interest in internet businesses. Apple and SoftBank China, for example, came together for Didi's Series F round and participated in the staggering $7.3 billion investment, which accounted for the largest global financing last year.
After the merger of China's leading group-buying providers Meituan and Dianping, they raised $3.3 billion in the series E round from DST Global, Temasek Holdings and other venture capital investors.
While later-stage financing remained substantial, investors increased their focus on internet startups. Among all the sectors, software hit a new high last year.
China provides a good environment for internet entrepreneurial startups and venture industry. The country is going through a big economic transformation, shifting from an agriculture and manufacturing economy into an innovation-oriented one driven primarily by tertiary sectors.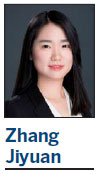 China's sustainable innovation strategies, the top-down "internet plus" design and preferential policies under the central government's 13th Five-Year Plan (2016-20) have spurred the wave of public innovation and entrepreneurship. A high level of entrepreneurship will stimulate venture capital activities.
Given China's population density, the strong demand to upgrade consumption and the world's largest mobile internet market, Chinese internet startups, especially mobile internet startups, will have a huge chance to realize their ideas quickly through innovative solutions and business models.
Additionally, with the growth of the middle-income population and a transforming economy, China's entrepreneurial environment is full of potential. So, foreign venture capital investors have fervently sought to gain exposure to Chinese internet startups, especially since the uncertainties faced by the European and US markets have hampered global venture financing activities.
Venture capital has catalyzed China's entrepreneurship and innovation-driven economy, which in turn has become the soil of the venture industry. This creates a win-win situation.
Foreign venture capital has played a positive role in motivating internet entrepreneurial startups and promoting the Chinese economy. Foreign venture capital investors in China are increasingly interested in high-tech and online service startups, such as artificial intelligence, big data, fintech and online education businesses.
Foreign venture capital, as a stakeholder, provides not only the capital but also well established corporate management practices. Being a good source of innovative ideas and stewardship philosophy from mature economies like the United States, Hong Kong and Singapore, foreign venture capital can represent value-added investors for Chinese internet startups. With a focus on long term returns and patience, foreign venture capital investors are able to nourish a group of ambitious Chinese high-tech startups that have a longer pay-back period.
Chinese internet startups have the ability to be the next generation of the country's economic engine, which helps to promote Chinese industries toward a higher level.
Foreign venture capital has had a positive effect on Chinese employment as well. From China's employment data, it is clear that small and medium-sized enterprises are the main source of new jobs and employment growth.
The participation of foreign venture capital enhances the development of China's venture industry. The country's venture capital investments have been driven primarily by government funds for a long time. Being a high input industry, high-tech startups need the size of venture funds to be large enough to meet their needs.
Additionally, the heterogenousness of the sources of venture capital is important for the sustainable development of China's venture industry. Foreign venture capital is a good supplement to venture ecosystem diversification and can effectively mitigate the pressure faced by domestic venture capital. A well-established venture ecosystem is also able to accelerate the commercialization of technology.
Meanwhile, the transformation of the venture industry from government-oriented to a market-oriented one needs support and encouragement from the central government. A high-quality operating environment with a variety of efficient VC-backed exit strategies, and a comprehensive, sound policy design, will boost venture financing.
Chinese internet entrepreneurial startups and venture capital activities are playing an increasingly important role in the global market. Although they originated in the West and rapidly developed in China, both foreign and domestic venture capital pay great attention to the better reciprocated opportunities in this emerging market.
Early winners among niche companies like Baidu, Alibaba and Tecent further contributed to the boom of internet entrepreneurial startups and the Chinese economy. Foreign venture capital has strong fund sizes and well-established investment philosophies in capital operations.
The Chinese market, with a lower level of market saturation of high-tech entities and a bigger base, is now going through another big wave of entrepreneurship. Under preferential government policies and a more open capital market, foreign venture capital may give rise to more breathtaking ventures in China.
The author is a research fellow with the Hande Institute of Finance in Shenzhen, Guangdong province. The views do not necessarily reflect those of China Daily.