Airbus bullish on Chinese demand for widebody aircraft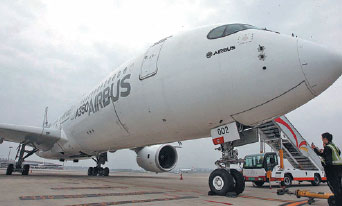 An Airbus A350 plane prepares for takeoff at the Shuangliu International Airport in Chengdu, Sichuan province. Xie Minggang / For China Daily
European aircraft manufacturer Airbus Group SE said it plans to offer training to pilots and engineers for its new A350 widebody plane at the Hua Ou Aviation Training Center in Beijing, a joint venture of Airbus and China Aviation Supplies Holding Co.
The group said it is bullish on the country's demand for widebody aircraft, fueled by fast-growing long-haul international routes.
Airbus said it will also offer training about the structure of composite materials at Hua Ou Aviation Training Center to Chinese and Asian customers.
Since its establishment in 1996, Hua Ou Aviation has trained a large number of pilots and aircraft maintenance engineers, including crew for A320 and A330 aircraft.
Francois Mery, COO with Airbus Commercial Aircraft China, said the company has increasingly attached greater importance to its customer service work in the Chinese market.
"Hua Ou has been a solid base for our China-oriented customer service and it has been running successfully.
"We also aim to provide more customer service staff who speak Chinese, instead of offering services indirectly from Europe," he said.
Meanwhile Bruno Bousquet, vice-president of customer service with Airbus Commercial Aircraft China, said Airbus has offered more end-to-end customer services to Chinese airlines.
He said for instance, it provides packaged cabin accommodation services to help airlines to optimize their cabin setup and increase revenues.
Bousquet said in this case, airlines don't need to seek different suppliers for fragmented modification services, as such a process was complicated, especially for small and startup airlines.
Currently, the cabin of an A320 aircraft can hold a maximum 188 seats, six seats more than the original version and with no change to the spaces between rows.
Chinese budget airline Spring Airlines purchased Airbus' packaged cabin accommodation services and modified the cabins of 14 of its A320 aircraft.
"Particularly for single-aisle aircraft like the A320, most airlines hope to have more seats, without compromising comfort levels," he said.
zhuwenqian@chinadaily.com.cn