SOE reforms prove profitable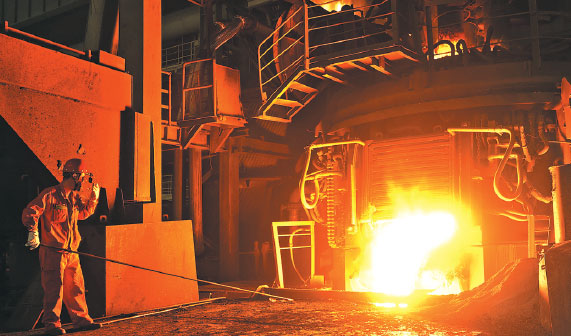 A worker checks molten steel at an iron and steel plant in Dalian, Liaoning province. Central State-owned enterprises saw their total revenues surge 19.2 percent to reach 6 trillion yuan in the first quarter of the year. Liu Debin / For China Daily
Nation's major State companies' profits up 26.5%
China's central State-owned enterprises saw their net profits surge 26.5 percent year-on-year to 226.4 billion yuan ($32.9 billion) in the first quarter of this year, thanks to measures including mixed ownership reform, the nation's top SOE regulator said on Thursday.
Shen Ying, chief accountant of the State-Owned Assets Supervision and Administration Commission, said the government will tighten State capital supervision, enhance risk control and deepen SOE reform, especially by carrying out reforms in steel and coal industries this year.
"SASAC will also support central SOEs' participation in the development of the newly announced Xiongan New Area in Hebei province, and central SOEs certainly can find a number of growth opportunities in the new area," said Shen.
A total of 91 central SOEs achieved a rise in revenue during the first quarter, with 54 of them, including defense-related industries, construction materials, pharmaceuticals and modern services, witnessing a rise of 10 percent or more, and sectors such as oil, steel and coal experiencing an increase in revenue of at least 40 percent. Central SOEs saw their total revenues surge 19.2 percent to reach 6 trillion yuan in the first three months.
"The reform will be applied to different SOEs based on their situation. Private companies are also encouraged to participate," Shen said.
Shen said the SASAC will accelerate the pace of cutting the number of "zombie companies" and reduce production capacity, and improve efficiency by streamlining the administration of SOEs.
"Zombie companies" are economically unviable businesses, usually in industries with severe overcapacity, kept alive only with aid from the government and banks.
"Overcapacity has become a major problem for both the public and private sectors. The difference is that private enterprises are more market-conscious, reacting through downsizing, shutdowns or bankruptcy when they are unable to generate a profit," said Shen.
Last year, more than 110,000 workers were affected by SOE reform measures such as capacity reductions, and they have received appropriate compensation, according to the SASAC.
"Unsuccessful action against zombie companies poses a major threat to China's economic structure. China therefore is resorting to SOE mergers to create more global powerhouses and avoid cut-throat competition, in addition to restructuring redundant industries to aid supply-side reform," said Nie Huihua, an economics professor at Renmin University of China in Beijing.
Nie said the central government's reforms aim to explore new State-owned asset management models focused on the management of capital rather than the companies, find effective methods for a mixed-ownership economy, and improve the corporate governance structure.
Contact the writers through zhongnan@chinadaily.com.cn