Medical firm welcomes healthcare reforms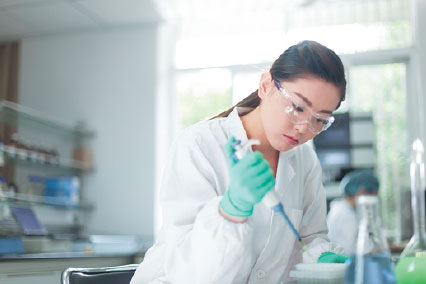 A researcher with Medtronic conducts research at the company's R&D center in Shanghai. Provided To China Daily
US health giant is ready to embrace opportunities created in China market, says Medtronic chief executive
As China increases its efforts to provide low-cost and effective medical services through the government's healthcare reforms, the plan offers potential for all market players, including foreign companies.
Omar Ishrak, chief executive of US-based medical device manufacturer Medtronic, does not regard the reforms as something that would put the brakes on the company's long-term commitment in the country.
He sees the reforms as central in allowing his company to fulfill its mission to expand access to healthcare, and lower costs in healthcare systems globally.
Ishrak has long been fascinated with Chinese culture. He joined the company in 2011 and comes to China at least twice each year.
Leading a company with more than 88,000 employees in 160 countries, Ishrak has created a healthy work/life balance.
His easy-going nature has been welcomed by employees.
In 2016, he was named in Glassdoor's top 50 chief executive list for the second year.
Recently, he spoke to China Daily during the Boao Forum for Asia about how his company plans to embrace opportunities brought by the government's medical reforms. The following are edited excerpts from the interview:
What do you think of your products' competitive edge in the medical device market in china?
In the medical device market in China, we have the leading market share. For our latest product in China - the heart valve - we have solid experience that we are proud of to bring to China. I think our competitive edge lies in our understanding the needs of local physicians so that we can customize products to meet their demands.
The China-led Belt and Road Initiative has opened up new business opportunities. How will it benefit your business?
With clearer policies and regulations to be established in time, the initiative may make it easier for us to do business, providing greater access to products and to professional training in neighboring countries.
What do the healthcare reforms mean for your company?
The government's aim of lowering healthcare costs in China is a good cause.
As a medical manufacturer, the company has helped increase Chinese patients' access to healthcare through innovative public and private partnerships and we have a plan to establish a training and education center in Chengdu in Sichuan province, to help medical professionals from Western China to improve their clinical skills.
Future efforts would involve helping improve healthcare quality in remote China, expanding sales and distribution networks to reach more people in need those hard-to-reach rural regions.
The company is opening the first bio-prosthetic heart valve manufacturing site in Shanghai. It is expected that in time this facility will help relieve the shortage of bio-prosthetic valves in China and globally.
Do you think the government has a role to play to make medical products more affordable? What is your suggestion on improving healthcare in china?
China still lags behind compared to developed countries in terms of government spending on basic healthcare. I am not saying that China should increase the spending right away, but it is a fact.
The costs of healthcare remain high compared to other developed nations. Data from the World Bank shows that as of 2014, the US spends 17.1 percent of its GDP on healthcare, but China spends around 5.6 percent of its GDP. There is room for improvement, but the government is on the right track.
How do you meet the demand of customers who are out of reach of the affordable and high-quality medical products? How do you make your products more affordable?
The major problem in China is not high costs. The major problem is that even if there are many people who can afford the products, sometimes they have limited access, possibly because they live too far from the clinics.
The first step to address the problem is to try to provide access to everyone who can afford the products. Because the demand is huge in China, and a huge volume itself decreases costs naturally.
We would be able to produce more low-costs products in China in the future, but we would have stratified portfolios. It depends on how demands for different kinds of products change.
What is unique about the Chinese market compared with other major international markets?
There are more patients and more physicians in China compared to any other area in the world.
In 10 years, probably, the Chinese market would have outpaced the US market.To us, what makes China unique, is that Chinese government has a systematic approach to resolve the huge demand for better healthcare service through managing the pace of investment and by improving training of medical professionals.
In this way costs are controlled. The Chinese government has been leveling the playing field for market players, which makes China a long-term viable market.
Your company received a fine of 118.5 million yuan ($17.19 million) from the National Development and Reform Commission for refusing to let distributors discount prices for medical devices last year. How has this affected your business and strategies?
We have spoken to officials with the National Development and Reform Commission. By and large, there has not been much effect on our business.
We have the best intentions, and we have made adjustments accordingly. The government is keeping an eye on the whole supply chain, and is trying to streamline it. That helps improve the whole business environment and we will watch it carefully. The transparency of law enforcement is good enough, and I don't think there is too much to complain about from the company's perspective.
We now understand where the regulations stand and we will make sure employees understand the rules.
What's your opinion about free trade and globalization?
Healthcare is a global need. If you can help people, no matter where they are in the world, it is a good thing.
The demand is universal and I think there should not be too much disagreement on this point. Putting a barrier on doing this sometimes makes it more difficult but may be unintentional.
We would adapt to local policies. Once the rules are in place, we are a big enough company to make the adjustment.
Have you visited any Chinese hospitals or clinics, and spoken with local distributors and patients?
Yes, I have visited both small and large hospitals in China, and the medical center in Chengdu in Sichuan province. The feedback from the patients is usually good. I have met distributors as well. I will come back to Beijing again this year.
What's your hobby? How do you spend your time after work?
I go hiking a little bit while visiting countries. I love running, just for fun. Hope I can have the chance to hiking in China very soon.
wangyanfei@chinadaily.com.cn
CV
Age: 61
Birthplace: India
Career:
2011-present: Chairman and CEO of Medtronic
2009-11: President and CEO of GE Healthcare Systems; in 2010, promoted to SVP of GE
2005-09: President and CEO of Clinical Systems of GE
1999-2005: Officer of GE
1995-99: General manager, Ultrasound, GE
Education:
Bachelor of Science
Ph.D. in Electrical Engineering from the King's College, University of London