Tencent joins great AI rush
Online giant keen to keep lead in social media and gaming
TOKYO - The days when Chinese internet companies could simply rely on the country's sheer population are over. That's why Tencent Holdings Ltd's Pony Ma is betting on the future of artificial intelligence.
Tencent has assembled more than 250 people for its AI Lab, a fledgling unit intended to work with its most profitable divisions from gaming to social media.
The company aims to teach machines how to better battle human players and strike up meaningful conversations, said Zhang Tong, the newly appointed director of the research unit.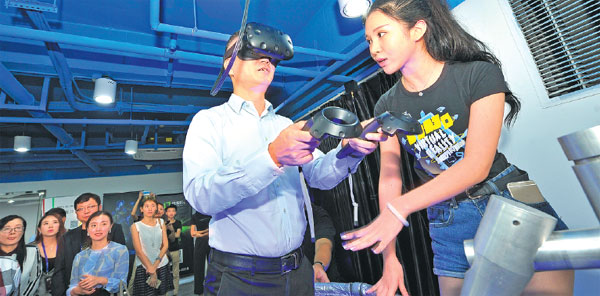 An executive from internet giant Tencent Holdings Ltd experiences a pilot virtual reality device at an entrepreneurship event in Fuzhou, East China's Fujian province. Zheng Shuai / For China Daily
Recently, in Tokyo, Tencent demonstrated an early result of that collaboration, pitting its "Jueyi" against fellow computer players of the classical game "go" in an annual competition. Jueyi - which means "fine art" - won against defending champion DeepZenGo.
China's largest internet companies are investing billions in AI research, hoping to shed a reputation for being fast imitators and break new ground in a blossoming field. With AI set to transform everything from mobile apps to cars, companies like Tencent and Baidu Inc want to pioneer ways to build smarter software and products.
Ma, Tencent's billionaire founder and chairman, has warned that companies that fail to create technology will lose out in future.
"Tencent used to be a product-driven company. Now we want to be a technology-driven company," Zhang said in an interview.
He wouldn't say how much Tencent was investing but affirmed the company was in it for the long haul. "We've reaped the benefits of a large population, now we need to use technology and AI."
Best known for messaging service WeChat, Tencent's business encompasses news, entertainment and online games such as League of Legends and Clash of Clans. It's become intertwined with the lives of hundreds of millions of Chinese who use WeChat and QQ to order food, play games and hail taxis. While it employs AI in areas such as news recommendations, infusing the technology into other services could have broad impact.
"Tencent keeps a low profile in investing and developing AI technologies, which mainly concentrate on the fundamental research, covering voice recognition, natural language processing and machine learning. It is exploring the potential application of AI in content, social networking platform and games," said Zhao Ziming, an analyst at Beijing-based internet consultancy Analysys.
Zhang Zhuo, research director of IDC China said Tencent's layout in AI sector is relatively late compared with its rivals, but it has gradually increased investment accompanied with the joining of Zhang Tong, the new director of its AI Lab.
"The competition among China's internet companies in the field of AI will become fiercer as you can see the recent changes in leadership at Baidu and Tencent," said Zhang.
He said on one hand, it will have a deep influence on traditional industries. On the other, top talent, international academic institutions and capital will flow into China.
Bloomberg - China Daily