Fintech seen bridging financing gap for the 'under-banked'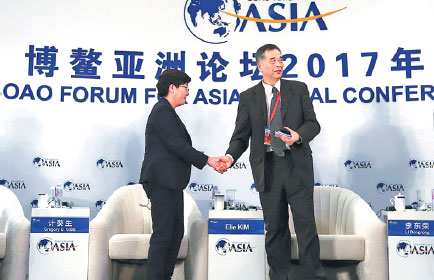 Li Dongrong (right), head of the Internet Finance Association of China, shakes hands with Elle Kim, vice-president of Samsung, at the Boao Forum on Thursday. Wang Zhuangfei / China Daily
Financial technology - or fintech - could contribute to the real economy by bridging the financing gap for "under-banked" individuals and small and medium-sized enterprises lacking a credit history, industry experts said on Thursday during the Boao Forum for Asia 2017.
The four-day BFA Annual Conference 2017, themed "Globalization & Free Trade: The Asian Perspectives", is being held from March 23 to 26 in Boao, Hainan province.
Services built around technology breakthroughs - from big data, cloud computing to artificial intelligence - could build solutions specific to particular finance needs and bring banking to those who need it the most and the underserved, the experts said on Thursday.
Fintech, defined as the use of technology and innovative business models in financial services, is catalyzing changes in finance that have extended the sector's geographic reach and the availability of financial products, said Ma Weihua, former head of China Merchants Bank.
"Fintech should serve the real economy and the substantial demands of customers," Ma said.
Thanks to mobile phones, along with cloud computing and big data, people in underdeveloped areas could access basic financing services delivered to the palm of their hands, he noted.
Funding requirements by SMEs and individuals now account for 15 percent of China's total loan market and will climb up to 30 percent in three to five years, said Gregory Gibb, CEO of Shanghai Lujiazui International Financial Asset Exchange Co Ltd.
"Fintech is the right way to address that surging need," he said.
Through fintech, traditional lenders can also deliver solutions that enable them to compete in their established markets, as well as helping to improve their own processes, said Liu Shi, founder and chairman of Billions Finance.
For instance, companies using cloud services can save up to 90 percent of budgets spent otherwise on maintaining and supporting a complex IT infrastructure, Liu noted.
Fintech can also tap financial institutions for a wealth of information from data held on potential customers, providing a granular level of detail previously unattainable and coming up with a tailored-made lending plan for each borrower based on risk assessments.
For instance, JD Finance, the financial arm of e-commerce firm JD.com Inc, has issued loans to date worth 250 billion yuan ($36.3 billion) to over 100,000 SMEs and 10 billion yuan to over 4 million farmers.
Chen Shengqiang, CEO of JD Finance, said machine learning, a leading algorithm of artificial intelligence, is adopted in its virtual credit card service Baitiao to automatically assess the creditworthiness of over 200 million people in China.
Similarly, China's largest internet-finance firm Ant Financial Services Group, evaluates customers' purchasing and spending habits in order to derive a figure that shows how creditworthy someone is, and give entitlements such as deposit waivers on a variety of services.
Contact the writers through hewei@chinadaily.com.cn