Mainstreaming special needs education in schools
Adviser says all children should receive equal treatment
In order to remove the stigma surrounding disabilities and encourage a more inclusive society, a national political adviser has called for a change in the law that would compel mainstream schools to admit children with special needs.
At present, only a small proportion of these children have access to mainstream education, according to Wang Ming, a professor with Tsinghua University's school of public policy and management and a member of the Chinese People's Political Consultative Conference National Committee, the nation's top political advisory body.
He cited a survey of 2,400 parents in seven cities across China conducted by the National Union of Parents of Children with Mental Disabilities last year, which found that more than 1 in 4 children with special needs, age 6 to 15, were excluded from mainstream schools.
The Compulsory Education Law obliges governments at the county-level and above to establish special schools for children with disabilities.
Wang suggested that this be changed so governments at all levels are required to support children with disabilities in attending mainstream schools and following the same curricula as other children.
Schools would have to be equipped with "resource classrooms and specially trained teachers" to enable the change, he said.
Other obstacles, according to Wang, include the need for specially designed activity spaces and disabled toilets, as well as possible opposition to the move from the parents of children who are not disabled.
"But the biggest problem is a shortage of specially trained teachers," he said.
"For example, in Guangzhou there are nearly 2,000 children with disabilities in mainstream education, yet the average student-teacher ratio is 36-to-1."
Wang suggested making inclusive education methods a part of the curriculum for all teaching majors and providing working teachers with continuous training on the subject.
A Shanghai mother, surnamed Bao, who has a 5-year-old child with a learning disability, welcomed Wang's proposal.
"Such inclusive education would make a huge difference in ensuring this small group of children be equipped with the skills to survive in mainstream society and live independently," she said.
Zhu Shanping, an NPC deputy and a teacher at Nanjing Foreign Language School in Jiangsu province, said inclusive education is also beneficial to children who are not disabled.
"It gives them an understanding of equality and acceptance as they interact with this group of children in everyday life," she said.
Wang Chao, director of the China arm of international charity Save the Children, said disabled people are too often forgotten by society.
"We can foster a more inclusive society for them, and inclusiveness starts from childhood," he said.
zhouwenting@chinadaily.com.cn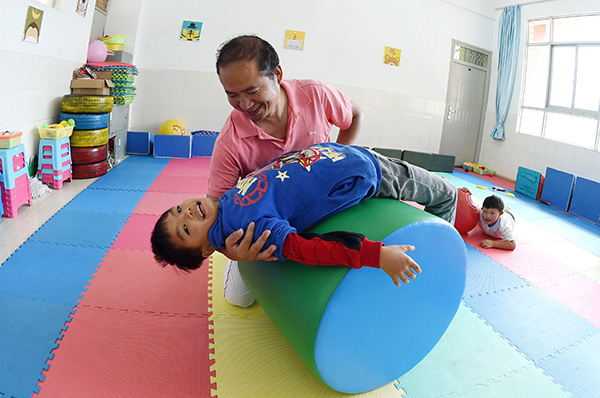 Special education teacher Dai Jianrong helps a disabled child complete sensory integration training in Kunming, Yunnan province.Lin Yiguang / Xinhua