Tourism seen as cure for poverty in central, west regions
China is continuing its efforts to lift 12 million people out of poverty by 2020 through developing rural tourism.
The China National Tourism Administration said in its 13th Five-Year Plan (2016-20) that it will work with other agencies to provide support for 22,600 villages, including improving transportation, telecommunications, and sewage and garbage treatment facilities. It said tourism experts will draft a workable design for developing rural tourism, as well as setting up monitoring centers to provide aid flexibly.
While urban Chinese are known for frequent outbound trips and spending power, many in rural areas are steeped in poverty. According to the State Council Leading Group Office of Poverty Alleviation and Development, of China's 592 poorest counties, 217 are in the central region, and the rest are in the west. More than 230 of these impoverished counties are in regions inhabited by ethnic people.
By developing rural tourism, China hopes to see more money flow through these poverty-stricken regions, increasing the number of jobs and bringing new ideas for development to those regions.
Peng Decheng, director of the administration's Planning and Finance Department, said that alleviating poverty through tourism could bring dignity to people in poor counties and has a lasting impact.
"Developing rural tourism encourages villagers to participate in industry through their labor, land or houses, which is sustainable and has many benefits," he said. "The rate of counties falling into poverty again after poverty alleviation through tourism is very low."
Feng Zhengqun, a resident of the Liangshan Yi autonomous prefecture in Sichuan province, said she is accommodating more tourists than before, thanks to the government program.
"When I first started my business, I didn't make a lot of money. But things have changed now. The government is building a modern village and putting up free advertisements for us," she said. "Changbanqiao village is a famous 'poor village'. Before, we had an enormous amount of land, but few residents, not to mention poor infrastructure."
Three years ago, Changbanqiao village invested more than 37 million yuan ($5.4 million) in turning the whole village into a scenic spot. Now, 18 farmhouses, which offer tourism services including dining, entertainment and accommodations, bring in money during every big festival.
suzhou@chinadaily.com.cn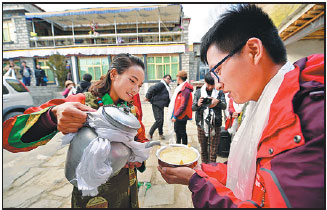 Dekyi, a Tibetan resident, serves barley wine to a tourist who opted for a home stay at her house in Lhasa, Tibet autonomous region, in November.Liu Dongjun/xinhua