CASIC launches its first satellite into space
China Aerospace Science and Industry Corp launched a Kaituo 2 carrier rocket on Friday to send the company's first satellite into orbit.
The launch took place at 7:53 am at the Jiuquan Satellite Launch Center in Northwest China. A Kaituo 2 solid-fueled rocket placed the Tiankun 1 technology demonstration satellite into its preset orbit, said a statement by CASIC.
Tiankun 1, developed by the CASIC Second Academy in Beijing starting in March 2014, is a small, low-orbiting satellite designed to test remote sensing and communications technologies. Based on a modular design, it carries visual-light, infrared and microwave equipment that can observe Earth and space debris, the statement said.
The company said that Kaituo 2 was developed by its Fourth Academy in Wuhan. The rocket is capable of placing 250 kilograms of payload into a sun-synchronous orbit 700 kilometers above Earth, or 350 kg into a low-Earth orbit. It features high efficiency, strong mobility and quick-response capability and can be used in tough environments, the statement noted.
Friday's launch marked the rocket's first flight. In 2003, CASIC launched a Kaituo 1 solid-fuel carrier rocket to lift a small satellite. Whether the Kaituo 2 is a successor to the Kaituo 1 or a new type remains unknown.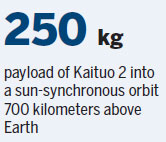 This is not the first time State-owned CASIC, the largest maker of missiles in China, has been involved in the commercial space sector.
In China, a commercial space mission generally refers to space activity paid for by an entity other than a government or military agency.
The company has developed the Kuaizhou-series solid-fuel carrier rockets for commercial space and has launched three Kuaizhou rockets so far.
The most recent flight of a Kuaizhou rocket was in January when a Kuaizhou 1A blasted off from a launch vehicle at the Jiuquan Satellite Launch Center to lift three small satellites into a sun-synchronous orbit.
CASIC is now making a new-generation Kuaizhou 11 and plans to launch it in 2017, said Wei Yiyin, deputy general manager of the company. He added that CASIC will allocate considerable resources to boost its commercial space business.
zhaolei@chinadaily.com.cn