Cartoons used to perk up patients
A nurse in Zhengzhou, Henan province, has hit upon an unusual way to keep her patients' spirits up - drawing cartoons.
Ding Miaowen, a 29-year-old nurse who works at Zhengzhou Central Hospital, was thrust into the public eye after one of her doodles, drawn for a 23-year-old man who was badly injured in a car crash in August, went viral recently.
The patient had to undergo microsurgery on his broken leg, followed by a four-monthlong recovery.
"I was touched by this man's suffering, as he bore the pain all alone and was unwilling to increase the burden on his parents," Ding said.
He showed courage during his recovery, but still had moments where he felt down, so the nurse decided to try and cheer him up.
"Four months is quite a long time," she said. "Any patient can have emotional moments, no matter how hard they try to stay optimistic."
Her first cartoon for the injured man showed him lying in bed with a broken leg and a nurse approaching carrying a tray. At the top of the drawing, dated Aug 19, Ding wrote: "Your body temperature is a little higher today, but please do not be nervous. This is a normal reaction as your body has to protect itself. You will feel better day by day."
On another of her drawings, she showed him sat smiling in a wheelchair. "Accompanied by your mom and a doctor, you went outside and saw the sunshine for the first time in a long time. Your bright smile excited us all. You are the best. Just hang on for a while and you can go home," she wrote.
By the time the young man was discharged, Ding had drawn 15 cartoons for him. One, which was posted on social media by a colleague in January, became an instant hit.
But the young man was not the first patient Ding has drawn for. In her 12 years as a nurse, she has brightened many patients' days by drawing on their plaster casts or coloring-in her colleagues' cups.
"I did not learn to paint professionally. I only learned how to sketch in pencil and draw with crayons in primary school," she said.
"But I love art, because drawing cartoons brings happiness to the patients and tome."
Wang Yunfei, director of the hospital's microsurgery department, said cartoons can relieve patients' anxiety and help build a better relationship between patients and medical staff.
"We also show patients our success stories to encourage them, increasing their self-confidence to fight their illness," Wang said.
"A positive attitude and mutual trust are beneficial to patients' recovery."
Contact the writers at qixin@chinadaily.com.cn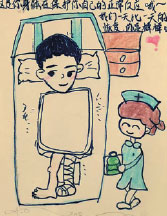 A drawing by Ding Miaowen, a nurse in Zhengzhou, Henan province, to cheer up her patient. Photos Provided To China Daily