Students stage 'dance' play in New York
For students at the Avenues World School, doing a Chinese language play in both Chinese and English was a difficult but rewarding learning experience.
The high schoolers had finished their final rehearsal for Tang Ying's The Winter We Danced - the school's choice of foreign language play this year - and spoke of learning about a side of China they're not usually taught about, one that celebrated dancing after the end of the "cultural revolution" (1966-76).
The play, which is being made into a movie in China, tells the story of Xinmei, a young Shanghainese girl who discovers ballroom dancing for the first time after she enters college. Set in 1978 after university entrance examinations were reestablished, the play describes Xinmei's foray into dance as people around her learn about new Western culture in Chinese society.
"It's interesting because you go to Shanghai now and it's such a modern city and there's definitely ways to see old Shanghai, but it's harder to get a larger understanding of that," said Oliver Cohen, a 16-year-old student at the private school in New York who performed in the play.
"It was really great for me to do because I was able to take these smaller finer connections this show offered - almost these memories that I don't have and are part of the show - and all of a sudden I learn there's much more to Shanghai," he said.
Cohen said he liked acting and his experience with learning Chinese and studying at Shanghai Jiao Tong University led him to participate in the play. He has been taking Chinese at Avenues School and will be studying acting at the New York University Tisch School of the Arts next year.
The main character Xinmei is played by two different 14-year-old ninth graders at the school - Lynn Rong and Amber Shen - because the director felt the role was too big for just one actress.
Rong had just moved to New York four months ago from Beijing and thought that participating in the play - an extracurricular activity and not part of the language curriculum - would be a good way to make friends and take part in something that showcased her home country's culture, she said.
"It's my first year here and I really like dramas," she said. "It's a Shanghainese play, I'm Chinese, Shanghai's in China, so I wanted to do this play."
"I came from China so I already knew a lot about the 'cultural revolution'. [Yongling Lu, curriculum specialist at Avenues] shared a lot of her own experiences, so I learned more about that," she said. "I also learned how to ballroom dance!"
Shen, who was born in the US, said her parents were both from Shanghai so it "was cool to see what it would have been like when they were growing up."
Shen has been a student at Avenues School, a private school serving grades pre-K through 12 grades that opened in 2012, for a year.
"The play was really interesting. It was sad, but I assumed that what happened in the play didn't happen to my parents," she joked.
Lu, who manages the Chinese language program at Avenues, said she felt the play was important because it teaches American students another side of China.
"For American kids, when they think about China they think about Chinatown or kung fu or queues. They don't really connect to the [other parts] of the culture," she said. "This play gives them a fuller background."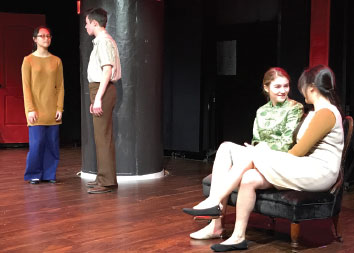 Students perform The Winter We Danced by Chinese playwright Tang Ying at the Avenues World School in New York on Thursday. The private school serving pre-K to 12th grade offers Chinese-language immersion courses for younger students and is looking to expand into China.  Amy He / China Daily