CNPC buys stake in UAE oil concern
Chinese companies have secured a 12 percent stake in Abu Dhabi National Oil Co's onshore oil concession, hoping to further participate in the development of United Arab Emirates' energy sector.
China National Petroleum Corp signed an agreement with the Abu Dhabi oil company on Feb 19 for an 8 percent stake, paying 6.5 billion dirhams ($1.77 billion; 1.67 billion euros; 1.42 billion), followed by Shanghai-based CEFC China Energy Co, which obtained a 4 percent stake.
CNPC and CEFC are the venture's new Asian partners, joining Japanese and South Korean companies alongside BP Plc and Total SA. BP signed on to the project in December, and Total in January 2015.
The onshore concession is operated by the Abu Dhabi Company for Onshore Petroleum Operations.
Asian companies are newcomers in the region, while European and US counterparts have pumped oil in the Middle East for more than a century.
"If you're Abu Dhabi and looking for demand growth, China is the future, and its demand is going to continue to grow," Chris Gunson, a Dubai-based lawyer at Amereller Legal Consultants, was quoted as saying by DealStreetAsia, a Singapore-based news and intelligence platform.
"For the big buyers in Asia, the logical source of that future supply is the Gulf," he says.
CEFC has also made a crude oil supply agreement with ADNOC, providing more than 13.2 million metric tons of high-quality crude annually to the Chinese market.
Ye Jianming, chairman of CEFC, says the deal enables the private company to secure long-term and stable onshore oil rights and interests for the company to engage in the exploration of upstream oil and gas in Abu Dhabi.
"This agreement enhances our ability to integrate ADNOC's onshore oil reserves with our storage facilities in China and Southeast Asia," Ye says.
Zhou Dadi, a senior researcher at the China Energy Research Society, says the deal will help unlock growth opportunities for both sides, helping Abu Dhabi and CEFC to further explore upstream exploration and ensure oil reserves.
He says the deal will help CEFC boost its oil supply capacity while helping China to get more involved in determining the global oil price.
CEFC China is among the 10 largest private companies in China and has a focus on energy and financial services.
Xu He contributed to this story.
zhengxin@chinadaily.com.cn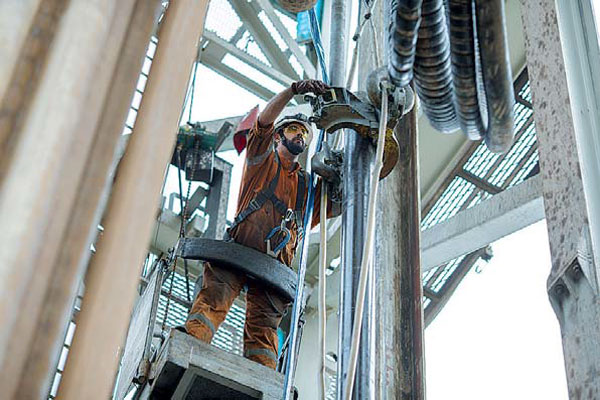 A worker secures a clamp as he guides a gas pipe on a drilling tower during operations at the Boekelermeer gas storage site, operated by Abu Dhabi National Energy Co in Alkmaar, the Netherlands. Provided to China Daily