Enter the dragon: Red Star style
Beijing expansion team draws defending champs in KHL playoffs
Kunlun Red Star's improbable first-year fairytale is heading into overtime.
It took until last Saturday's curtain-closer on the Kontinental Hockey League's 60-game regular season to seal the deal, but the Beijing expansion team squeaked into the Gagarin Cup playoffs by finishing eighth in the Eastern Conference.
That's the good news.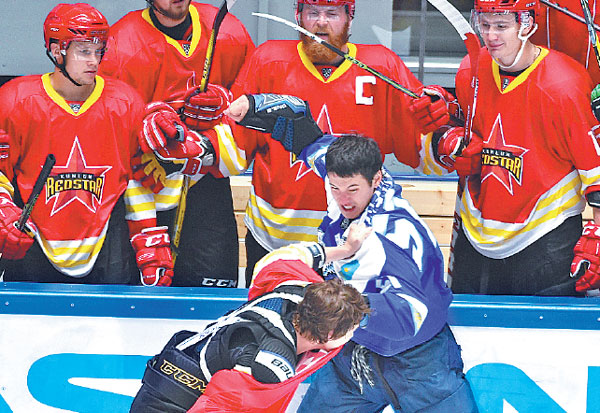 The fighting spirit of Beijing-based Kunlun Red Star was evident from the expansion team's very first preseason game in the Kontinental Hockey League last August. This week China's lone entry in the 29-team KHL is squaring off with Russia's Metallburg MG in a best-of-seven quarterfinal playoff series. khl.com
The bad news is that Red Star's opponent in the best-of-seven Eastern quarterfinal is defending champion Metallburg MG, owner of the KHL's third-best record and the league's top scorer.
The series opens tonight in Magnitogorsk, Russia.
Qualifying for the post-season is a remarkable feat for China's lone entry in the 29-team circuit, considering the team's brutal travel regimen. Red Star's closest KHL rival is Vladivostok, 1,300 km distant, and nearly half of Beijing's "home" games were played in Shanghai.
None of that matters now. Head coach Vladimir Yurzinov's multinational roster captivated Chinese fans with smart, entertaining hockey all season, and any playoff success would have to be considered an unexpected bonus.
Red Star's patchwork squad was thrown together just weeks after the club was officially launched last July, but by October it had gelled into a blend of veteran savvy and youthful exuberance.
The team captain is 32-year-old Finnish defenseman Janne Jalasvaara. The two top scorers are centers Chad Rau, an American, and Canadian Sean Collins. Russian Andrei Makarov and Finn Tomi Karhunen have provided spectacular goal-tending.
Red Star's homegrown contingent is led by 19-year-old Ying Rudi, the first China-born player signed to a KHL contract. The 6-foot-1, 190-pound center played youth hockey in Beijing before moving to Chicago at age nine.
Ukrainian forward Alexei Ponikarovsky, who won the Gagarin Cup with SKA St. Petersburg in 2015, is one of the leaders that Yurzinov will rely on to help settle the team's playoff jitters.
The 36-year-old Ponikarovsky, who notched 323 points in 678 games in North America's National Hockey League, doesn't think nerves will be a problem - thanks in large part to the atmosphere in the dressing room.
"Like any successful team, it's about that combination of having some pretty good players and a great attitude in the room," he told the KHL website last week.
"We're a friendly team. Even though we have players from all over the world and everybody speaks a different language, we all understand English. We've formed a close-knit group. We want to play and win for each other."
Rau, who led the team with 20 goals and 20 assists in the regular season, agrees.
"There's a lot of depth on our club and I've been lucky to play on a line with some good guys," said the 29-year-old.
"The team as a whole has really come together, and once we started to win games it only got stronger."
Speedy French forward Damien Fleury sustained a season-ending injury against Moscow Dynamo on Saturday, so Yurzinov will be forced to tweak his lineup for Metallburg.
Whatever he comes up with, Red Star's biggest task will be shutting down Sergei Mozyakin, who sniped 48 goals - including 22 on the powerplay - and 85 points in the regular season.
The Russian roster also includes Canadian defenseman Chris Lee, who finished sixth in the scoring race with 14 goals and 65 points - two ahead of Mozyakin's linemate, Jan Kovar.
Metallburg won both regular-season clashes: 5-1 in Shanghai on Oct 23 and 4-2 at home on Dec 10.
Game 2 in the quarterfinal goes on Friday night in Magnitogorsk before the series shifts to Beijing for games at LeSports Center on Sunday and Tuesday.
murraygreig@chinadaily.com.cn
League eyes more teams in Asia-Pacific
In an interview with one of Russia's leading sports publications, Alexander Medvedev, a member of the KHL's council of directors, discussed the first-year success of Kunlun Red Star and the possibility of the league pursuing expansion into the Asia-Pacific region.
"The success of Kunlun Red Star proves once again that money isn't all that important," Medvedev told Sport Express in Moscow last week.
"Even though Kunlun has one of the smallest budgets in the league, (head coach Vladimir) Yurzinov has put together an ambitious roster where players from different countries have demonstrated that within a year they can build a competitive team.
"I'm sure Kunlun will be a tough opponent for any team in the playoffs."
As for the chances of the KHL placing another team in China, Medvedev said: "I'm sure that in time we will see more than one Chinese team in our league. We might even see a Korean club.
"There is an idea about setting up a Pacific Ocean division, featuring teams from Russia and abroad. I think that would be interesting. As we've seen in China, even though there isn't a natural audience for hockey, the crowds have steadily improved.
"We're seeing more people at games in Beijing than we did in Shanghai, and with proper marketing efforts we will soon see full houses for KHL games in China."