Winter sport finds favor
In China, ice climbing is growing in popularity, especially among the young. Zhang Zefeng reports.
Armed with ice axes and crampons, climbers scale a 25-meter-high frozen waterfall. Their bodies are supported only by their equipment. And below them lies a frozen lake stretching across the base of a mountain.
You may think that this is a scene from an adventure movie like Touching the Void or Meru, but this is what a group of thrill-seekers experienced at an ice climbing competition on the outskirts of Yunmengxia Valley, Miyun county, in Beijing, over Feb 11-12.
Speaking about the event, Yu Kaihao, the event organizer, says: "We want to offer a platform to amateurs to learn from elite climbers.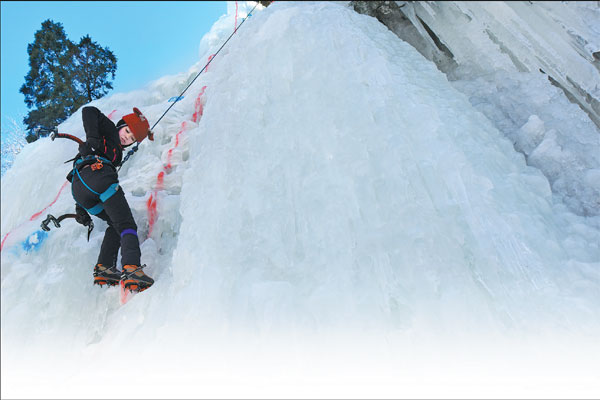 Bu Jieru is one of the few women participants at the ice climbing competition in Beijing's Yunmengxia Valley.
"You never know how good you are until you meet the best."
In China, ice climbing is growing in popularity, especially among the young.
And, the number of ice climbers has grown from a few hundred to around 6,000 in recent years.
Over Jan 7-9, Beijing hosted its first UIAA Ice Climbing World Cup, co-sponsored by the International Climbing and Mountaineering Federation.
Unlike rock climbing that does not require much gear, ice climbers need axes and crampons.
Canadian rock-climbing enthusiast Gavin Boyle was one of the foreign participants at the Yunmengxia Valley competition.
He says he had thought ice climbing was easy before he tried it out.
"When you see ice climbers in a film, the crampons and axes go effortlessly into the ice," says Boyle, who has been into rock climbing for two and a half years.
"The ice seems as smooth as butter."
But Boyle says that ice climbing is a sport that is both physically and mentally demanding.
"I was completely exhausted," says Boyle, after his climb.
"Your body and mind play tricks on you."
But, challenging as it sounds, women do not seem to be put off.
Bu Jieru, 30, is an avid mountain climber who has conquered both Mount Haba in Yunnan province and Yuzhu Mountain in Qinghai province.
For Bu, ice climbing not only means hard physical training but also helps her stay focused.
"I enjoy spending a month doing nothing but concentrating on honing my skills so that I can keep both myself and my teammates safe," says Bu, who brought her dog to the competition site.
"Even if I make only a little progress, I still feel delighted."
For Beijing-based venture capitalist Hao Shuaifei, the sport has changed his mindset.
In the past, Hao, 27, spent a huge amount of time pondering the risk level of each investment, but ice climbing has made him more decisive.
"Now I know how to take things lightly," says Hao. "As long as I am interested, I will take the risk."
Hao adds that every time he reaches the top during a climb, he feels proud.
As the temperature dictates the type and quality of the ice, the unpredictable conditions challenge the climbers.
Chen Liji encountered two sudden blowouts, caused by fragile ice in Sichuan's Shuangqiaogou Trench. There was one time when he fell off a cliff and landed on a snow slope. Luckily, he did not injure himself.
But the dangers are part of the appeal when it comes to ice climbing.
"I feel a sense of achievement after overcoming unexpected obstacles," says Chen, the champion of a national ice climbing tournament held in Beijing last month.
"It is like going deep into the mountains knowing well that there are tigers there."
He also says that regular practice and planning can help reduce risks significantly.
"It is important to understand the ice," says Chen.
"Before you climb, it is also important to do a risk evaluation."
In China, the ice climbing season is short.
The low temperatures and lack of sunshine that keep waterfalls frozen usually last only two to three months.
But this is what makes the sport truly special.
"Seasonality is probably the most alluring part of ice climbing," says Chen.
"When the season is over, a long wait lies ahead."
"It's already February, and this year's climbing season is almost over," he adds.
"But I am already waiting for the next season."
Contact the writer at zhangzefeng@chinadaily.com.cn