Playlist
APP
StudyBlue
It's back-to-school season again, and with that comes a chance at a fresh start. If you've resolved to advance your academic achievements this year, flashcard app StudyBlue should help do the trick. The app allows users to add relevant information to virtual flash cards and then quiz themselves. You can also share the cards with classmates or teachers to further group studies.
Music
Imagine Dragons
US rock band Imagine Dragons recently released a powerful new anthem, Believer that's getting a lot of fan traction. The song features lead vocalist Dan Reynolds praising the pain in his life that makes him a true believer. The latest studio album the band released was 2015's Smoke + Mirrors. The new song is generating excitement for the band's third album, even though no due date has been formally announced.
New album
Less, it turns out, is more for the British band Elbow. Ahead of their seventh studio album, the rockers lost a founding member, but the new music they deliver is among the best they've made in years. Little Fictions, Elbow's first CD since 2014's The Take Off and Landing of Everything, has typical band touches - a swelling orchestra, the unmistakably smoky voice of Guy Garvey and some moderately depressing lyrics. Despite the past, the album is easily one of the band's most accessible. That may be due to a major change in their engine room. This is Elbow's first release as a four-piece group, following the departure of drummer Richard Jupp, and that has resulted in some airy, electronic beats at the heart of many songs.
TV
CBS' Doubt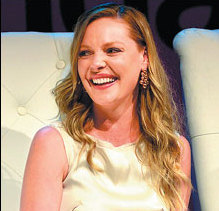 CBS's latest legal drama, Doubt, is something of a hung jury. Katherine Heigl (above) plays Sadie Ellis, a defense attorney for a small but highly regarded New York City law firm headed by liberal icon Isaiah Roth (Elliot Gould). She has been handling the case of a hunky pediatric surgeon named Billy Brennan (Steven Pasquale), accused of murdering his girlfriend 24 years before when he was just 16. Doubt never rises above the usual frothy formula. Sometimes its dialogue is way too cute, but that often covers lapses in logic or reality. However, the cast is likable. The show is competent for what it is, and the series manages to address some real issues in evenhanded ways.
China Daily - Agencies