Chinese lead world in online shopping
Chinese people are more likely to shop online than consumers from any other country, according to the latest survey by International Post Corp, an association of postal services headquartered in Brussels, Belgium.
In the second annual study of 24,000 respondents in 26 markets across North America, the Asia-Pacific and Europe, IPC found that 36 percent of Chinese buy from digital sites at least once a week, a frequency far outstripping their peers.
China is also the most popular market for online shoppers around the world, accounting for 26 percent of most recent cross-border purchases, followed by the United States with 16 percent, Germany's 15 percent and the United Kingdom's 15 percent.
Purchases from China are more popular with younger people and women, while purchases from Germany receive a warmer welcome from men and the elderly, the study found.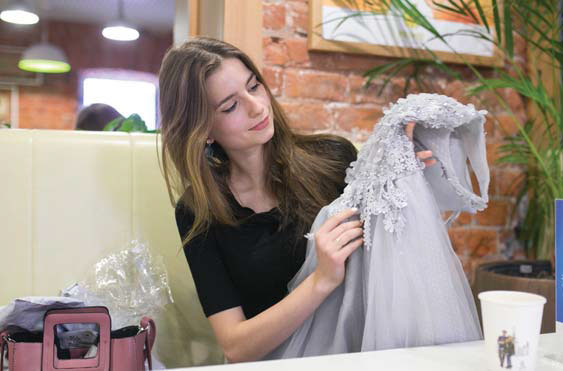 A 22-year-old online buyer in Moscow checks a dress in November that was purchased on a Chinese e-commerce platform. Bai Xueqi / Xinhua
Online marketplaces such as Amazon.com, eBay and Alibaba were the most sought-after avenues for buyers from almost all countries, accounting for around two-thirds of all cross-border purchases, the study said.
When analyzing the results by age, Alibaba's sites - including Alibaba.com and AliExpress - were notably favored by younger e-shoppers, while eBay was most favored by people aged 35-54.
China was the overall favored market for Europeans, but notable differences were seen in Luxembourg, Belgium, Austria and Switzerland, where customers mainly bought from neighboring countries with a shared language. Meanwhile, the US and China were the main markets tapped by cross-border shoppers from in the Asia-Pacific region and Canada.
The top four categories of goods bought through cross-border transactions were clothing, footwear and apparel (33 percent), consumer electronics (21 percent), books, music and media (14 percent) and health and beauty (13 percent).
When looking at the value of items bought by cross-border online shoppers, most were low-weight and low-value items, with 45 percent weighing less than 500 grams and 16 percent valued less than 10 euros ($10.70; 10.04 euros; 8.55), with a further 40 percent valued between 10 euros and 49 euros.
The survey also indicated that clear information about delivery charges, free returns and free delivery over a particular value, were the most important drivers for cross-border online shoppers.
It found that consumers were more likely to pay a premium for tracking rather than for speed of delivery. They preferred to pay for delivery of a tracked item that took five to eight days for delivery than an untracked item that took three to four days.
About 70 percent of cross-border online shoppers were offered tracking and 88 percent used it, mostly in the interim stage, to check on delivery progress.
Almost three-quarters of shoppers used postal services for their most recent cross-border purchases. Overall, 87 percent were satisfied with their delivery experience. Only 6 percent returned their cross-border purchase, mostly using the postal services for the returns.
The survey also looked at consumer delivery experiences and found that most cross-border purchases had free shipping. Around 59 percent of respondents received free shipping for their most recent cross-border e-commerce purchases, citing retail offers, promotions, product value and loyalty programs as key reasons.
Chinese consumers benefited most from free shipping, with 78 percent enjoying zero delivery cost.
China's logistics sector is worth a total of $2.2 trillion, against the global sector's total value of $9 trillion, according to logistics consultancy Armstrong & Associates. Of that, express deliveries bolstered by e-commerce accounted for $43.5 billion last year and was the fastest-growing segment, the consultancy said.
hewei@chinadaily.com.cn