Google plans to relaunch app store
US tech giant mulls comeback to the Chinese mainland market
Google Inc's proposed partnership with a local internet behemoth is likely to help it gain a much-coveted foothold in the Chinese mainland market, experts say.
The US tech giant is in discussions with NetEase Inc, China's second-largest online games provider, to bring its Google Play mobile app store to the Chinese mainland, according to The Information, a US news portal, which cited people familiar with the matter.
Google and NetEase did not respond to requests for comment amid the buzz that Google may be mulling a comeback in the world's largest mobile internet market. Sandy Shen, a Beijing-based research director at technology consultancy Gartner Inc, says forming a partnership with local players could help Google get the green light from the Chinese government.
The Cyberspace Administration of China, the country's top internet authority, issued a new regulation in January saying app store operators need to register with the local government before rolling out services.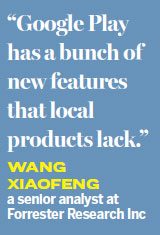 "That's perhaps why Google is reportedly considering a joint venture. NetEase can offer lots of help in government relations," shen says.
Google withdrew most of its businesses from the Chinese mainland in 2010. The absence of its Google Play store encouraged local internet giants and handset vendors to offer their own Android app stores.
Wang Xiaofeng, a senior analyst at Forrester Research Inc, says any relaunch of Google Play will be welcomed by Chinese users because the app store still has a strong reputation in the country.
"Google Play has a bunch of new features that local products lack. The digital assistant Google Now, for instance, is likely to lure Chinese consumers and help erode the presence of local players," Wang says.
The move also came after Apple Inc raked in millions of dollars from China.
In the third quarter of 2016, Chinese consumers spent $1.7 billion at Apple's iOS mobile app store, more than five times what they spent just two years ago, according to app tracker App Annie.
masi@chinadaily.com.cn