New 'green card' to ease daily life for foreigners
China will update its "green card" policy this year to make life easier for foreign residents, a source at the Ministry of Public Security confirmed on Feb 6.
With improved security features, the permanent resident permit is expected to guarantee more rights equal to those of Chinese citizens, such as when buying railway tickets, checking in at hotels and purchasing property.
Also on Feb 6, a meeting of the Central Leading Group for Comprehensively Deepening Reforms, presided over by President Xi Jinping, required further reform of the permanent residency policy to facilitate foreigners living here.
"The reform should serve the nation's talent strategy, address concerns of the public, optimize the design of credentials and improve the information system," a statement released after the meeting says.
The meeting also called for further efforts to make sure green card holders could enjoy all rights related to residency.
"The current green card is designed for entry and exit at the borders," says a Ministry of Public Security division chief who requested anonymity.
"However, the new card will be more commonly accepted in daily life. A foreign permanent resident could, for example, apply for a driver's license using only his or her green card."
The official says the ministry is in advanced discussions with other government agencies and will release a draft revision soon.
Noyan Rona, chief representative in the Shanghai office of Turkey's Garanti Bank, is a green card holder.
"Many officers at border controls have not recognized my green card. There are many times they made phone calls to their superiors to double-check," he says.
China began issuing permanent residency permits in 2004. The green card is among the most difficult to obtain in the world due to the high requirements involved.
From 2004 to 2013, only 7,356 foreigners were granted the card.
However, China has been easing its residence and entry policies for foreigners since September 2015.
Last year, 1,576 foreigners became permanent Chinese residents, an increase of 163 percent over 2015, according to the ministry.
Contact the writers at suzhou@chinadaily.com.cn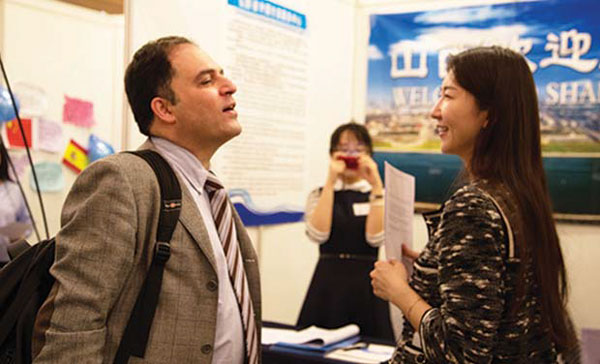 A foreigner visits a job fair in Beijing. President Xi Jinping required further reform of the permanent residency policy to facilitate foreigners living in China. Provided to China Daily