Kremlin says it wants apology from Fox News
The Kremlin said on Monday it wanted an apology from Fox News over what it said were "unacceptable" comments one of the channel's presenters made about Russian President Vladimir Putin in an interview with US President Donald Trump.
Fox News host Bill O'Reilly described Putin as "a killer" in the interview with Trump as he tried to press the US president to explain more fully why he respected his Russian counterpart. O'Reilly did not say who he thought Putin had killed.
"We consider such words from the Fox TV company to be unacceptable and insulting, and honestly speaking, we would prefer to get an apology from such a respected TV company," Kremlin spokesman Dmitry Peskov told reporters.
O'Reilly dismissed the Kremlin's call for an apology.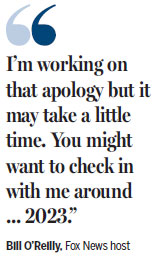 "I'm working on that apology but it may take a little time," he said on Fox News on Monday. "You might want to check in with me around ... 2023."
Peskov on Tuesday said O'Reilly's remarks reflected badly on the US channel, but suggested the Kremlin would not pursue the matter further however.
"This is a very unfortunate incident for the Fox company at least in our eyes. ... We are not inclined to exaggerate this or to blow this out of proportion," Peskov said.
Fox News is a top-rated US cable news network owned by Rupert Murdoch's Twenty-First Century Fox Inc.
Trump's views on Putin are closely scrutinized in the United States, where US intelligence agencies have accused Moscow of having sponsored computer hacking to help Trump win office.
Trump, when commenting on the allegations, questioned how "innocent" the US itself was, saying it had made a lot of its own mistakes.
Asked on Sunday to clarify those comments, Trump said: "Well, I don't have to clarify it. The question was do you respect him - he's a head of a major country."
Putin, in his 17th year of dominating the Russian political landscape, is accused by some critics of ordering the killing of opponents. Putin and the Kremlin have repeatedly rejected those allegations as politically motivated and false.