Bad weather continues to hamper return journeys
Some regions such as Hunan province saw fog reduce visibility to 50 meters
After dense fog caused travel disruptions in central and southern regions at the weekend, sleet and strong wind will arrive and continue to affect these regions until Thursday, the national weather authority said on Sunday.
Starting on Monday, northern regions, including part of the Inner Mongolia autonomous region, will experience heavy snow, while sleet and rain will cover the majority of central and southern regions, the China Meteorological Observatory said.
Strong winds and a drop in temperature will follow, it added.
The wind will disperse the dense fog that has shrouded the central and southern regions, including parts of Hebei, Henan, Hubei and Anhui provinces, since Saturday.
The fog reduced visibility to 500 meters, closing expressways and causing many accidents, the observatory said.
During the travel rush, which will end on Feb 21, an estimated 2.98 billion trips will be made, according to the National Development and Reform Commission.
Since Thursday, the country has seen passenger flow soar after the weeklong Lunar New Year holiday ended, while the lingering fog and imminent sleet and strong winds will continue to disrupt traffic, the weather authority said.
In Yiyang, Hunan province, visibility was lowered to 50 meters at 8 am on Sunday due to fog, closing expressways.
"I saw a rear-end collision on the road in front of my house on Saturday morning because of the poor visibility, even though they were driving slowly," Xu Ying, a 29-year-old living in Yiyang, said on Sunday, adding that many cars were lined up in front of the expressway entrance this morning.
Northern parts of the affected regions saw fog begin to descend on Sunday afternoon, while some regions in Hubei and Henan provinces may see the fog disperse from Monday afternoon, it said.
Many travelers chose to take trains to avoid the affects of bad weather on road conditions.
For example, in Fuyang, Anhui province, many expressways were closed due to fog on Sunday morning, forcing passengers to take trains.
zhengjinran@chinadaily.com.cn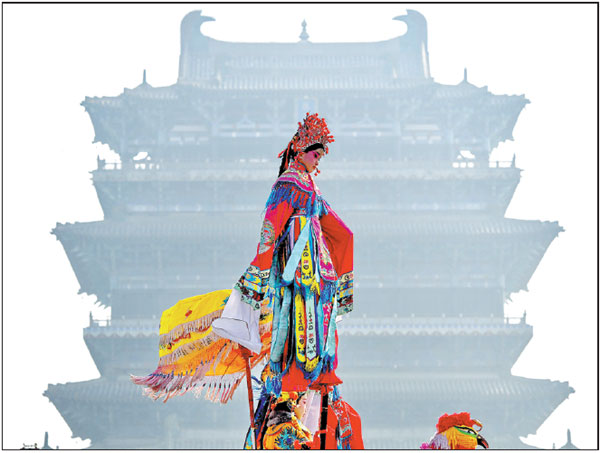 A local person dresses up and performs shehuo, a collection of traditional folk performances, on a foggy day in Yongji, Shanxi province, on Saturday, as part of the city's Spring Festival celebrations.Xue Jun / For China Daily