No rest for station staff in NE China during Spring Festival
Answering queries, punching tickets and collecting used instant noodle containers - the Spring Festival travel rush is always a busy time for the employees of Changchun Railway Station.
Li Qiang, who works at a ticket kiosk, smiles and asks her customer to confirm the details of their booking for the third time.
"It only takes seconds to sell a ticket, but we must do whatever we can to avoid mistakes," said Li. "Ticket changes are difficult during the Spring Festival."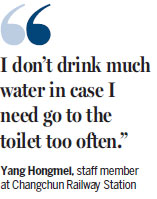 Li talks with more than 2,000 passengers every day for nine hours during the Spring Festival holiday, which came to an end on Thursday.
Migrant workers are the main buyers of train tickets from the kiosk. "They do not use the online booking system, so we need to help them face to face," Li said.
Sun Tianyou works for the station's security team. Sun and his colleagues have confiscated more than 1,900 dangerous items, such as knives, since the festival began on Jan 13.
Endless streams of passengers walk into and out of the waiting hall where Pan Xiangke is using a cumbersome machine to clean the floor. He drives back and forth at least 90 times every day.
The station sanitation team collects more than 5,000 used instant noodles containers and removes 20 metric tons of trash a day.
Yang Hongmei works at the information desk in the waiting hall. Over the festival, she answered questions from more than 10,000 passengers a day.
"I spend less than 10 minutes finishing my lunch and I don't drink much water in case I need go to the toilet too often," Yang said.
Ticket inspector Zhang Zhongming stands at the ticket gate for up to nine hours, punching more than 10,000 train tickets a day.
"My forearm muscles are now very strong," he said.
Zhang Zhen patrols the station's platforms for up to 10 hours a day. "Its freezing cold, but I feel warm when people thank me," he said.
The station, which is the largest railway terminal in Northeast China, is expected to handle more than 100,000 passengers a day during the 40-day holiday travel rush.