One Of The World's Natural Wonders
Hanzhong sinkholes beat earlier belief as the northernmost group of karst caves
After a four-month survey last summer, geologists confirmed that 49 sinkholes had been discovered in the mountains near the city of Hanzhong in Northwest China's Shaanxi province.
"Sinkholes are a rare geological phenomenon. To find this many sinkholes together is unprecedented," Li Yichao, a senior engineer at the Shaanxi Geological Investigation Institute, told Xinhua reporters.
In fact, before the Hanzhong sinkholes only 130 such sinkholes had been found worldwide. All the previously discovered sinkholes are located between latitude 24 to 31 degrees north. Yet the Hanzhong sinkholes are located near latitude 33 degrees north.
"It is a miracle in world geological history," said Zhang Yuanhai, a researcher at the karst geology institute, affiliated to the Ministry of Land and Resources. "No one ever expected there to be sinkholes this far north and we need a lot of research to know why they are here."
Located in Qinba Mountain in the province, the Hanzhong sinkholes comprise one super large sinkhole, 17 large sinkholes and 31 conventional sinkholes.
According to Zhang Shuanhou, a senior engineer at Shaanxi Geological Investigation Institute, a sinkhole is "large" if its diameter is between 300 and 500 meters, and "super large" if its diameter is more than 500 meters. The largest Hanzhong sinkhole has a diameter of 520 meters and it is 320 meters deep at its deepest point.
The cluster was first discovered in February 2015 by a national geological exploration team. The team, including experts from the UNESCO International Research Center on Karst, the International Union of Speleology and research bodies of Czech, France and China, then jointly surveyed the region last year.
The expert panel agreed the Hanzhong sinkhole cluster is rare, complete and spectacular in landscape, Wang Weihua, director of Shaanxi Provincial Department of Land and Resources, said after the team had completed its survey.
More importantly, these geological rarities are so far intact.
"The Hanzhong sinkholes are one of the most well-preserved natural geological phenomena in the world," Zhang said.
Most sinkholes are in places where few people tread. Ren Juangang, a senior engineer from SGII, who is in charge of the Hanzhong sinkholes survey, led people to Didonghe Sinkhole, a large sinkhole with a diameter of 380 meters.
A defining characteristic of Didonghe is its Shangri-La-like charm. It is flanked on all sides by green plants with a few streams flowing slowly down the sides to the emerald pool in the center. On the mild inclines near the lake, there are fields of stones the size of a chestnut. And there is a giant karst cave, on the roof of which are hundreds of stalactites.
Li Yichao said that he was "amazed at the various shapes of the stalactites".
Each of the sinkholes has its own characteristics and they are rich natural and biological resources for scientific research.
In Luojiaba town, where several other sinkholes are located, they have found hanging coffin tombs, an ancient form of burial.
Wang Weihua said the province will establish a research center for the Hanzhong sinkholes and apply to be listed as a national even world geological park and natural heritage.
"We have inherited Hanzhong sinkholes well from nature and we will preserve them well for coming generations," he said.
Contact the writers at huoyan@chinadaily.com.cn and zhangzhouxiang@chinadaily.com.cn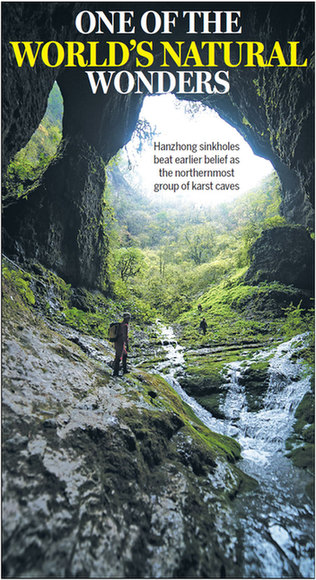 A view from inside Boniu Sinkhole, one of the large ones in nearly 50 sinkholes discovered in Shaanxi province, Northwest China. Most of them are well preserved in such counties as Ningqiang, Nanzheng, Xixiang, Zhenba, Gucheng and Mianxian.Provided To China Daily