Lonesome lives: The sad plight of children left behind by workers seeking a better life in China's cities
By Satarupa Bhattacharjya in Fuyang, Anhui province | China Daily Europe | Updated: 2017-01-22 15:51




Spring Festival will be celebrated by Chinese at home and abroad in a week's time. A good number of the country's more than 200 million migrant workers will return home to smaller cities and villages, bearing gifts for the children they have left behind in their pursuit of work in bigger cities.
A central government survey released in November suggests China now has 9 million children at or under the age of 16 whose parents work away from their domiciles. In 2013, the All China Women Federation, a government-backed agency said the country had 60 million such children under the age of 18.
Analysts say the new survey's methodology is different from the previous one in terms of the children's age as well as the categorization of absent parents. Some sociologists expect an actual decline in the number in coming years, with signs of more family migrations.
But a recent visit to East China's Anhui province, which is among the top inland areas for outward migration, showed that on the other side of the country's economic boom lie villages and small towns that continue to battle a deep emotional void.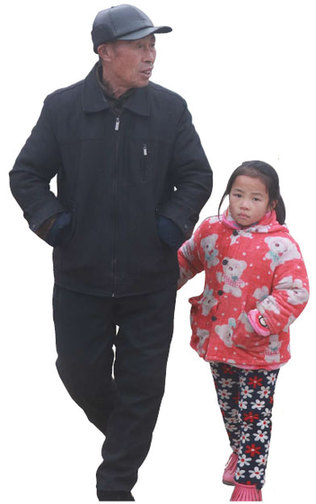 A girl and her grandfather live in Fuyang, Anhui province.
In rural patches of Fuyang, a large municipal-level city located more than 200 kilometers northwest of the provincial capital Hefei, most residents are the elderly and their young grandchildren. Here, the working age population is simply missing.
Hundreds of empty houses dotted across farmlands provide further evidence of desertion.
In the Houyuan neighborhood of Wuli village, for instance, more than half of the 22 households have children in the care of their grandparents. In adjacent Dongzhou, of the settlement's 65 residents, the majority face a similar situation.
Local government officials estimate 2.8 million people from Fuyang's population of 10 million live in different parts of the country.
Guo Lin, chairwoman of the Fuyang Women's Federation, says the migrants mostly move to wealthier eastern provinces, such as Zhejiang and Jiangsu, and Shanghai to do low-level jobs in manufacturing, services, construction and other sectors. As a result, 179,000 children under the age of 18 have been left behind in Fuyang, she says.
The term used to describe such children emerged from the so-called left-behind wives whose husbands had migrated from Anhui and other provinces, such as Sichuan, Henan, Guizhou, Hunan and Hubei, to mainly coastal cities in the 1990s. In the following decade, the women themselves started to migrate.
A large number of female domestic helpers in Beijing came from Anhui back then.
"The 2016 survey considers the legal working age of young Chinese and of families where both parents have migrated," Guo says of the differences between the new central government study and ACWF's 2013 survey that counted such children even when one parent was missing.
Sociologists have previously also studied migration patterns in the rural reaches of relatively affluent places such as Chongqing and Guangdong province.
In the Houyuan area of Fuyang's Wuli village, Zhou Peisheng and his wife, Liu Guilan, have been raising their granddaughter for the past three years. The couple's daughter and son-in-law are a waitress and a chef at a restaurant in Nanjing in Jiangsu province.
"It's no trouble taking care of her, she isn't naughty," Zhou says of his granddaughter, Ni Yuting, aged 9.
Her parents keep long working hours, which is why Ni can't live with them in Nanjing, he says.
Ni wants to see her parents more often and for longer periods than just during the annual holidays. She also wants to know "what gifts they will bring for me".
In Zhou's neighborhood, most working age couples have migrated to Hangzhou in Zhejiang province, where the G20 Summit was held last year.
Zhou was once a crop farmer who worked part-time at rural construction sites in Fuyang. Today, he is among the better-off people in his locality, with income coming in from growing vegetables. His daughter sends money home as well.
For Song Jinlan, a 55-year-old resident of Dongzhou area in the same Wuli village, life is slightly harder. The widow has been looking after her grandson since his birth six years ago. Her son works in Hangzhou driving trucks that carry construction materials and her daughter-in-law works at a textile unit in the city.
Her son sends her 1,000 yuan ($145; 136.7 euros; 120.70) a month on average, Song says. In addition, she earns some money from selling corn and other crops that she grows.
In 2015, Fuyang's per capita rural dispensable income was 9,001 yuan on average per year.
Song's son and daughter-in-law come home every Chinese New Year and stay for less than two weeks.
This year the couple want to arrive ahead of the Spring Festival week to hold a ceremony to cut a few strands of long hair their son has been wearing since early childhood as a traditional symbol of good fortune. But so far, Song says, her son hasn't been granted the extra leave he requested.
"Without his parents around, I sometimes feel helpless, especially when the kid falls sick," she says pointing to her grandson, Zhou Junhao, aged 6.
In the town of Xihu, some distance from Wuli village, former schoolteacher Du Fengcai and his wife have raised two grandsons in the past 20 years.
Du's son, a longtime migrant who now runs a hotel in the tourist city of Dali, in Southwest China's Yunnan province, can't take his 13-year-old younger child along because of the limited options for education there, Du says. His older grandson, aged 22, has joined his parents' business in Dali.
Du longs for reform of the country's household registration system, or hukou, to increase the educational prospects for the children of migrant workers in host cities.
While the first nine years of education are compulsory in China, the existing hukou system throws some challenges at migrants.
The 2016 government survey makes mention of the reform, too.
While at least 8 million grandparents form the backbone of second-generation parenting in China today, this aging group, with limited resources at its disposal, is often unable to provide the emotional support that the grandchildren, especially teenagers, need.
"Some problems of left-behind children are being solved with the country's economic progress, but their psychological lives still need attention," says Lu Shizhen, deputy chairwoman at the China Youth and Children's Research Association, a Beijing-based affiliate of the China Youth University of Political Studies.
Lu advocates long-term professional counseling, not just for the affected children but also for their primary caregivers.
The children of migrant couples are "de facto orphans", she says, adding that a mix of economic and social reasons has triggered the situation.
According to the new survey, a percentage of the 9 million children largely live without adult supervision on a daily basis, effectively forcing them to stay alone.
In an appalling case last year, police reported the deaths of four siblings, aged 5 to 14, in Guizhou, among the country's poorest provinces. In a "suicide note" written before they died, the eldest said their mother, who worked in a different place, hadn't visited them in a year and a half.
Other than abject loneliness, unsupervised children in particular are at risk of sexual abuse.
A few years ago, 19 cases of sexual assault on girls under the age of 18 were registered in Henan province, China Youth Daily reported.
With the majority of "left-behind" children living in villages, there's also a need to include more women in countryside Party committees, Lu says.
Last year, the State Council, China's cabinet, issued a set of guidelines for local governments to follow, including setting up more child welfare centers across the country.
"How central policies percolate down to the grassroots level is the key question," Lu says.
That's where the real implementation is necessary.
Zhu Lixin and Wu Yue contributed to this story.
satarupa@chinadaily.com.cn