'Rich folks' in US want their children to learn Mandarin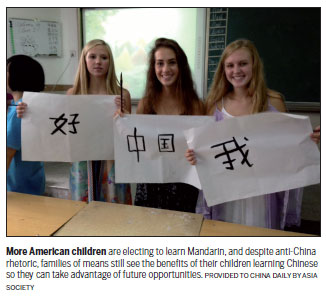 A video of Donald Trump's granddaughter reciting a Chinese poem for a Lunar New Year party went viral last year, illustrating for some that affluent families are still keen on having their children learn Chinese, no matter what the political differences are between China and the US and despite Trump's anti-China rhetoric.
Arabella Kushner made headlines in November when her mother Ivanka Trump shared the video of her reciting the Chinese poem Sympathy for the Peasants for a Spring Festival party from earlier in 2016, with people further digging up another video posted nearly two years ago of the child "working hard" on her Sunday Chinese lessons.
"So-called 'rich folks', whether they feel China will play a friendly, positive role or negative role in the [US-China] relationship, [they know] it would benefit their children to learn their language because it provides the kind of access and provides opportunities in a whole different way," said Jeff Wang, director of China learning programs at the non-profit Asia Society.
"They're very straightforward. The usual suspects, they still think that China will be a major player, US-China relations will be a major factor. Their kids are incredibly articulate: They want to be lawyers, they want to be businesspeople, they want to be in the trenches, and they know language will afford them that access," he added.
At the Avenues independent school for students in grades K-12, where annual tuition is $49,250 and thousands more in fees, language immersion is part of the curriculum. Students can choose to study Chinese or Spanish, and from age 3 to the fifth grade, students alternate between learning in English and learning in either Chinese or Spanish.
Nancy Schulman, director of early education at the school in Manhattan, said that the response to the language immersion has been "incredible", with about 600 students choosing the Mandarin track.
"Parents do this for multiple reasons. Obviously, China is a very fast, important economy in the world and certainly there are parents who are looking forward to opportunities for their children in the future, to be able to participate in a global economy that is important in the world," she said.
"Many [parents] were born-or have worked or were raised-in another country and have an interest in expanding the idea of what it means to be a global citizen for themselves and for their children also," she added.
There are approximately 200,000 students in the US studying Mandarin, a number that President Barack Obama's administration wants to increase to 1 million by 2020 through the One Million Strong initiative, a successor to the 100,000 Strong initiative founded in 2009, whose goal was to get 100,000 US students studying Chinese. The goal was surpassed in 2014.
"Anecdotally, the demand has never been higher in terms of interest that the foundation has incoming from students who are seeking more information to find out more opportunities in China," said Eugene Huang, acting CEO of the US-China Strong Foundation, which was initially known as the 100,000 Strong Foundation before it was renamed last year.
Huang emphasized that students expressing interest in studying Mandarin don't come from just the privileged class, "those who go to Ivy League institutions or other institutions that are 'the elite' in this country - we're seeing demand from historically black universities, we're seeing interest from community colleges and other places where you wouldn't expect the interest to be in China, but it's there."
amyhe@chinadailyusa.com